A lot of people suffer from aerophobia. Air travel is especially inconvenient for people with disabilities. Therefore, many airlines are now making concessions to their customers and are switching to a pet-friendly form. But still, the question of traveling with your pet confuses some people, because there are many requirements and rules that must be followed.
With service animals, the situation is a bit simpler. In most cases, they are allowed on board the aircraft without hindrance, along with their owners, since for people with disabilities, an animal is a vital measure. However, various changes and innovations are constantly taking place in the legislation, which need to be monitored. That's why we've put together the information you need to know if you're planning to travel with a service animal. Learn What is a Service Animal in our blog article
Features of flights with animals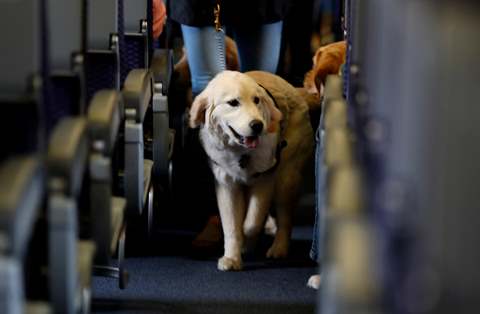 Pets are usually allowed in the cabin if, together with the carrier, they weigh up to 8 kg. Some airlines allow weight up to 10 kg. See the airline's website for maximum weight and carrying requirements. However, there are general rules for the size of the container, its strength, as well as the presence of ventilation. In the cabin, pet carriers are placed under the chair in front. According to the rules, the pet must sit in its temporary house for the entire duration of the flight. Sometimes two animals are allowed to be placed in one container.
Animals that together with the container weigh more than 8 kg will have to be checked in as baggage. They can also send a dog of an aggressive breed there, even if it goes into the salon by weight. In addition, in some directions, transporting an animal in the cabin next to other passengers is prohibited by the rules of the airline. If it is fundamentally important for you that the animal flies next to you, you can choose a pet-friendly air carrier.
Service animals can fly in the cabin regardless of their size. Such animals need special documents, they must be in a collar and a muzzle. The owner may require a disability document. Psychological support dogs, depending on the rules of the airline, can fly in the cabin or in the luggage compartment.
The accesses for service animals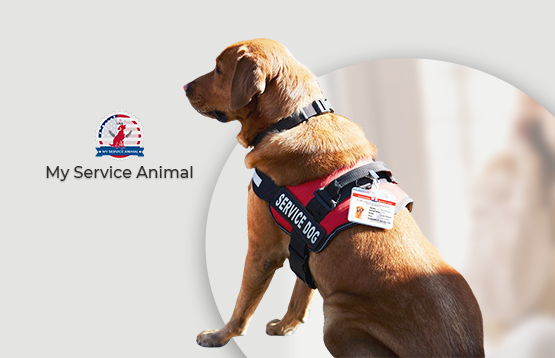 Service animals have significant differences from regular pets. These creatures are specially trained and designed to make life easier for people with disabilities. Their constant presence next to the owner in some cases is simply vital. Therefore, service animals are a separate subject of legal relations and have enhanced capabilities.
For example, service animals can go with their owners to cafes, restaurants, and even to the office and university. Also, like all helper animals, they can live with their owner at no extra charge. In addition, service animals of any breed and size are allowed to fly in the cockpit next to a person. Since flight is considered one of the most stressful situations, the animal here performs several functions at once – both its physical tasks, and mentally supports a person and reduces stress levels.
You can find information How to Get Emotional Support Animal Letter From Doctor in blog.
The DOT form
The United States Department of Transportation is a federal agency that regulates the rules for the carriage of passengers within the country and abroad. In particular, it is the DOT that determines and regulates the rules for transporting service animals. Moreover, it is through this service that you need to submit an official request in order to obtain permission to transport an animal in any direction in the cabin.
In the early stages of planning your air travel with a service animal, you will need to fill out and submit a special form to the DOT. This form may seem daunting at first glance, but it's really all about you and your service animal, so there shouldn't be any problems filling it out. Please note that without completing this application, you will not be able to request your pet to enter the cabin of the aircraft.
You can order a filled Air Department of Transportation (DOT) Service Animal Form with the MyServiceAnimal registrar.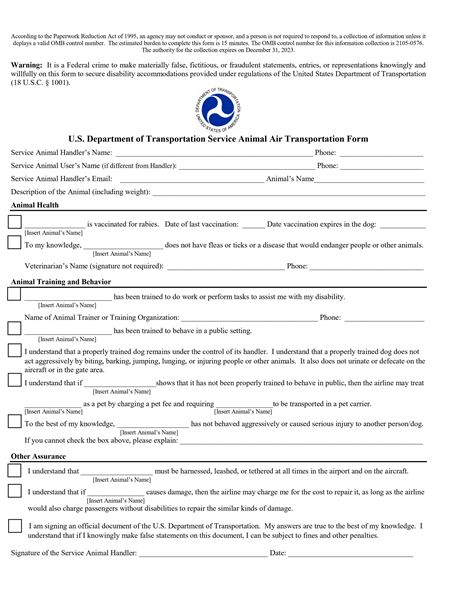 Rules to be observed before, during and after the flight
First of all, when preparing for air travel with your service animal, you need to learn the laws of the country you are traveling to. Some countries prohibit the importation of certain breeds of animals. Others require the animal to be placed in a two-week quarantine upon arrival. Therefore, you need to clearly understand the requirements of the country where you are flying in order to avoid misunderstandings and unpleasant situations.
After studying the rules of the country, you need to fill out a special form for transporting a service animal. The official form can be found on the website of the United States Department of Transportation. There you need to enter basic information about yourself and your service animal, information about your disability, documents for the animal and information about its health. Also be prepared for the fact that you will be asked to present a doctor's report and an animal ID card confirming that this is a service animal, and not a pet.
After that, you need to carefully study the rules of the airline you plan to fly. During the flight, the animal must be dressed in special equipment, including a muzzle and harness. Some airlines require all animals, including service ones, to be carried in special carriers. If your flight will last more than 8 hours, take care of the comfort for the animal. You must provide it with everything necessary for the period of the flight.
Once at the destination, there are no special rules for service animals. However, each country has its own policy regarding animal helpers, which you should familiarize yourself with in advance.
 The requirements for the animal
All airlines put forward requirements for the state of health of the animal and its behavior. First, the animal must visit the veterinarian regularly and be vaccinated against rabies and parasites. The animal should not have worms, fleas, ticks, and it should not be a carrier of diseases dangerous to humans. All this information must be supported by the relevant conclusions of the veterinarian. In addition, the list of health requirements includes the appearance of the animal. The air carrier has no right to refuse to transport a service animal to you, arguing its refusal by the size or breed of the animal. However, you may be refused if the animal looks unkempt and dirty. Therefore, we recommend regular visits to the groomer so that the appearance of the animal remains attractive.
With regard to behavior, all service animals undergo special training, which also includes behavior training in public places. When completing the Service Animal Transport Form, you will be asked to identify a trainer or animal training center. However, if you did the training yourself, you can enter your name in this box. The main rule is that the animal should not be aggressive. For example, a dog that barks, growls or rushes at passers-by will not be allowed to board an aircraft. It is also important that the animal does not seek to harm the property of the airline.
What paperwork is requisite?
The main innovation in the paperwork is that you need to fill out an animal transportation form in advance and get approval from the ministry. After booking tickets for the flight, you can submit this form online or in person at the relevant authority. All other document requirements remain unchanged.
You must provide a medical certificate confirming that you have an inability and that you need an assistance animal. To transport a psychiatric service dog, you will need to obtain a PSD letter from your GP. It is important that these documents contain truthful information, which, if necessary, your therapist can reaffirm. Service animals are required to be registered and must have a special ID card that acknowledges their "profession".
You must also have the animal's veterinary records showing the dates of the last examination and vaccinations. This paper should also include your veterinarian's contact details for verification purposes.
Remember, if you refuse to provide any of the required paperwork, or if you provide a false one, the Department of Transportation and the airline have the right to deny you travel with the service animal. Therefore, take the collection of all the necessary records seriously and prepare them in advance. The full list of required documents can be found on the official website of the Department.
Special equipment and accessories
In everyday life, a service animal does not need special equipment, accessories or clothing. However, these items are essential for the duration of the flight. To make sure that the animal does not harm the property of the airline and to protect and reassure other passengers, the animal must be muzzled and harnessed. In addition, we recommend getting a special vest that will make it clear to others that you are flying not just with your pet, but with a service animal.
We also recommend that you pay special attention to the carrier for the animal. The animal should be comfortable in it, it should fit him in size and should not hinder his movements. Any discomfort in an animal during a flight, especially a long one, can cause uncontrolled aggression. It is also important that the carrier is strong enough, has ventilation, and does not leak in case the animal needs to relieve itself.
Pet-friendly airlines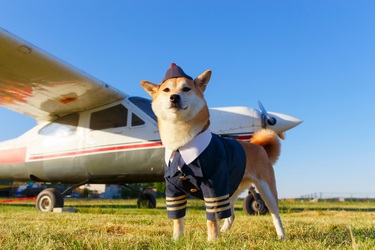 Airlines are becoming more and more pet friendly because every day more pets travel with their owners on board. Airlines have had to adapt to market demands as the demand for flying with pets grows every year. Pets no longer have to go through a long separation from their owner. However, when planning a joint trip, you need to carefully consider the choice of airline so that the flight goes easy and smoothly.
Detailed rules and requirements for traveling with a pet may differ for each airline. However, there are general guidelines. Only obedient, well-mannered and clean animals are allowed on board the aircraft. If your pet is aggressive, or looks untidy or sickly, you may be denied transportation of such an animal. Also, do not forget about special equipment. First of all, it is necessary for the flight to be as comfortable as possible for you and your pet, as well as for other passengers.