Introducing our premium quality Tactical Vest, specially designed for Emotional Support Animals. This vest offers a perfect blend of durability, functionality, and comfort to provide top-notch support for your ESA, whether it's accompanying you on daily routines or navigating high-stress situations.
What Does a Tactical

ESA Vest

Look Like

?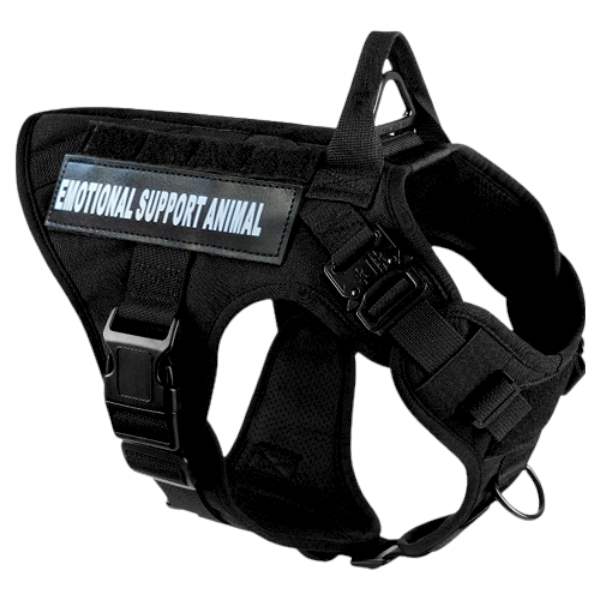 An emotional support animal vest, also known as an ESA harness, is an accessory that signals to others that your dog is there to help you with your disability. Although it is not required by law, many owners choose to use it to avoid unwanted attention and potential conflicts in public places. Support animal handlers often prefer to have accessories that clearly display the dog's status as an assistant animal trained specifically to assist with their disability. With this tactical support animal vest you can combine high reliability, convenience, wear resistance and professional appearance with a patch that will emphasize the special status of your dog.
Benefits of using ESA harness:
Our tactical ESA vest offers a range of benefits that set it apart:
Premium Quality and Design: Crafted to meet the highest standards, this vest not only serves its purpose but also looks sleek and professional.
Cushion Padding: Your ESA's comfort is paramount. This vest includes cushion padding to ensure your furry friend feels at ease during wear.
Wear Resistance: Designed to endure tough conditions, this vest is highly wear-resistant, making it ideal for various activities.
Heavy-Duty Metal Buckle: The vest's heavy-duty metal buckle guarantees security and durability.
MOLLE System: The MOLLE system allows for versatile storage and attachment options, accommodating your ESA's needs and gear.
Rubber Handle: The rubber handle ensures a firm grip and easy handling in any situation.
Double Neck & Chest Adjustment: This feature ensures a snug and comfortable fit while effectively distributing pressure.
Fast & Easy Application: Putting on this vest is a breeze, allowing your ESA to be ready for action in no time.
Breathable materials that keep your emotional support animal comfortable, especially during longer outings and adventures
Reinforced D-ring for attaching the leash
Extra space for more patches, allowing you to personalize your vest even further.
You can order some extra assistant animal patch sets, or create custom-made patch sets with your dog name or any other ideas.
Vest Size S includes small "EMOTIONAL SUPPORT ANIMAL" patches measuring 1 1/4″ x 4 1/4″, while sizes M, L, and XL come with large patches measuring 6 1/4″ x 2″.
How to Pick the Correct Harness Size for My Support Dog?
Picking the right vest size for your assistant animal is crucial because they will spend a lot of time wearing it, so the product should fit and be comfortable. To choose the correct option, all you will need is a measuring tape; size the girth (two fingers should fit between the tape and a dog's body). Also, it shouldn't be too tight around its neck and shoulders (if the skin bunches up, the harness is too small).
If you're unsure about which of the two vest sizes to order, it's recommended to choose the smaller size as the Tactical vest is highly adjustable. Please be aware that tactical vests are not available for extra-small and toy dogs. For these smaller breeds, you can order our classic ESA harness.
You can find the various leash sizes in the infographic below.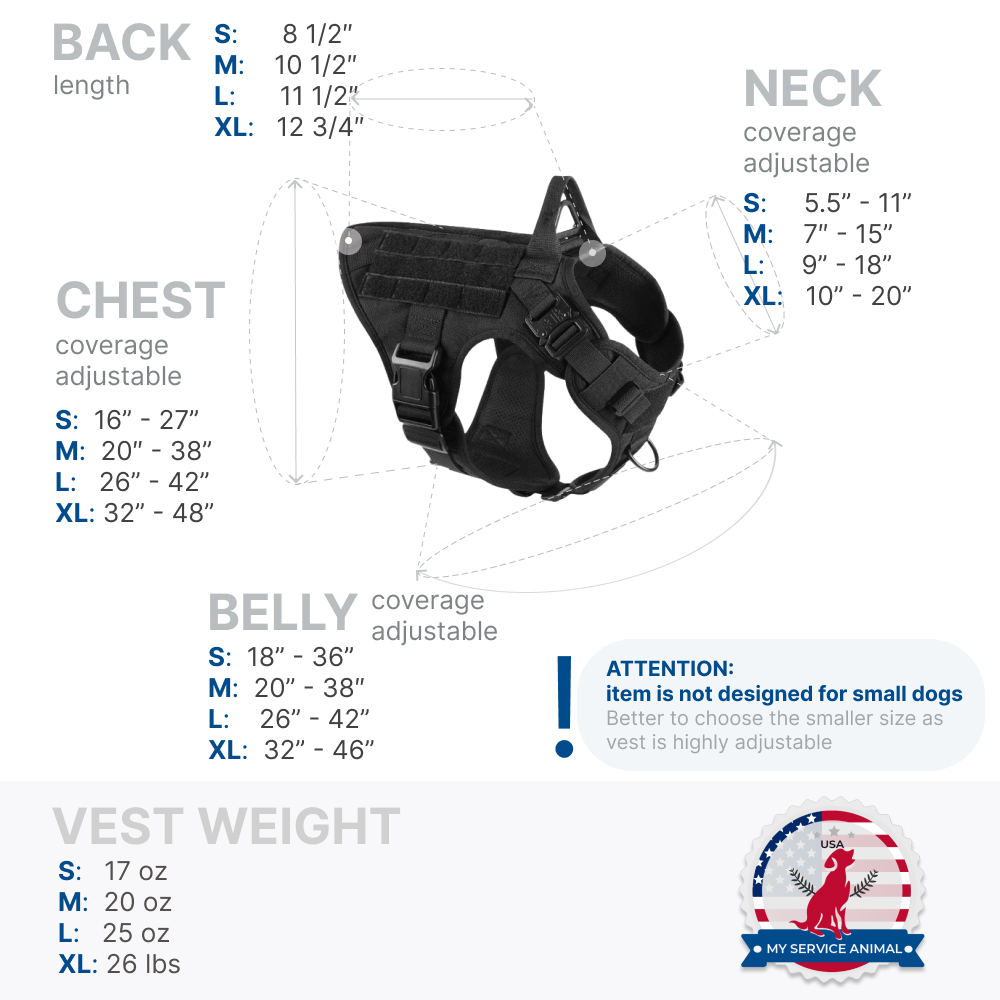 For most ESA cats, the ideal size for a vest is XS. However, for larger breeds such as Maine Coon, Ragdolls, Norwegian Forest Cats, and other big breeds, an S-size harness would be more suitable. It's important to ensure a proper fit for the comfort and safety of your ESA. Additionally, an extra small vest can also be used for other support animals like small pigs, raccoons, and other animals that would feel comfortable wearing it.

Please note that breed sizes are approximate, and we recommend measuring your dog's dimensions according to our size chart. The XL size is indeed intended for giant breeds, so if you're unsure whether your dog falls into one of the largest breeds, you may not need the largest size.
How to Get a Support Animal Tactical Vest
To get an ESA vest online, you can follow these simple steps:
Choose the vest that best fits your dog's or other support animal's size and needs from our size selection.
Add the vest to your cart and proceed to checkout.
Provide your shipping and billing information, and make the payment. You can pay by direct/credit card and PayPal.
Once your order is processed, your vest will be shipped to the provided address.
Shopping on our website will be convenient and safe, and it will be much cheaper than looking for where to buy dog ESA dog vests near you.
Can I order a Support Animal vest if I don't have a registered ESA or a doctor's letter?
Yes, you can order an ESA vest from our company without having a registered assistant animal or a doctor's letter, as it is not regulated by law and there are no restrictions. Additionally, it is important to note that owning an ESA dog vest or other gear does not make an animal emotional support. The animal must mitigate the person's disability and the owner has to have a valid ESA doctor's letter.
Is it mandatory to use an ESA Vest?
It is not mandatory to use a vest for a support animal in all cases, as laws and regulations vary depending on the location and situation. However, many organizations and trainers recommend using a harness for support dogs because it helps to clearly identify the animal as a support dog which can help to prevent confusion or misunderstandings in public spaces. Additionally, a vest can also help to protect the dog from injury and prevent it from getting lost. It's good to check the laws and regulations of your location.
Emotional Support Animal Additional Accessories

At MyServiceAnimal you can register an Emotional Support Animals ID tag through our database, which serves as proof of their status and can be shown to anyone who doubts their legitimacy. Additionally, we provide the necessary documentation to ensure convenience and peace of mind for you and your assistant pet.
ESA Certificate – A non-mandatory document verifying that a qualified mental health professional prescribed the animal.
Housing Reasonable Accommodation Request – A letter to your landlord explaining your need for a cost-free accommodation for your support animal in your residence.
Take your assistance animal recognition to the next level and avoid unwanted attention with our range of ADA accessories. With our accessories, you can also increase control over your pet in public spaces, making outings less stressful for both you and your furry companion. Browse our shop for a variety of accessories for your assistant pet:
Displaying your ESA pet's special status in public raises awareness and ensures you and your animal are not disturbed. It also helps avoid uncomfortable situations in establishments by making it clear that you and your pet must not be separated or denied entry.
Description Last update:
November 17, 2023