Housing Reasonable Accommodation Request form is a document that individuals with disabilities can use to request a change in their housing situation to accommodate their needs. This request can include modifications to the physical structure of the living space or adjustments to certain policies or rules. The request must be supported by a letter from a healthcare provider explaining the need for the accommodation. The form is typically submitted to a landlord or property manager, and they are legally obligated to consider and respond to the request in a timely manner under the Fair Housing Act.
What is a Fair Housing Reasonable Accommodation Request?
A fair reasonable request is a request made by an individual with a disability to their housing provider, asking for a change or exception to a rule, policy, practice, or service that would allow them to use and enjoy their housing. This request is protected by the Fair Housing Act and applies to all types of housing, including rental properties, condominiums, and homeowners associations. The accommodation must be necessary for the individual with a disability to have an equal opportunity to use and enjoy their housing, and it must not pose an undue burden on the housing provider.
These accommodations may include changes to policies, procedures, or physical elements of the housing. By making a request for a reasonable accommodation, an individual with a disability is requesting an exception to the usual rules or practices of the housing provider in order to have equal access to housing.
A housing accommodations request for service dogs is a specific document that is required by the Americans with Disabilities Act (ADA). This request is made by an individual based on their unique needs and is typically necessary when it comes to housing conditions for someone with a registered service animal or emotional support animal.
Regarding to ADA:

It prohibits discrimination against individuals with disabilities in all areas of public life, including housing. The Fair Housing Act (FHA) also requires housing providers to provide reasonable accommodations to people with disabilities, including allowing them to have service animals and emotional support animals in their housing.
There is no standard template for creating a Housing Accommodation Request with an assistant animal, as the document should be tailored to your unique needs and situation. However, there are guidelines and information that can help you create a thorough and effective request. It is possible to write the request yourself, but it is recommended to seek guidance from a legal professional or disability advocate to ensure that your request is compliant with relevant laws and regulations.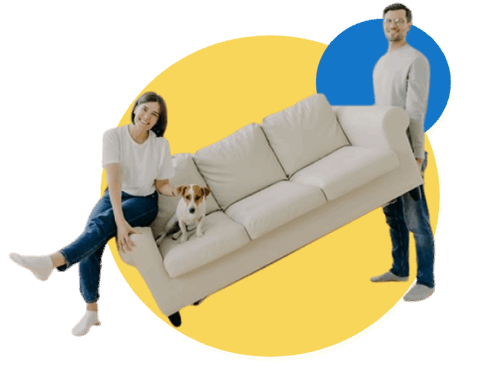 Why do you need a Housing Accommodation Request
A Housing Accommodation Request is necessary to inform landlords or housing providers about the right of a person with an assistance animal to live in housing without discrimination.
An individual need to submit a Housing Reasonable Request form in the following situations:
A student requires a single room in a university or college;
An individual with a disability moves to rented housing;
A person wants to stay with an assistance animal in a hotel room;
An individual needs modifications to their home or apartment to accommodate their disability;
A person requires a designated parking spot due to their disability;
An individual needs access to common areas, such as a community pool or clubhouse, that are not wheelchair accessible.
When making a request for housing accommodations with an assistant animal, it is important to have a valid doctor's letter. This helps to prevent any potential discrimination or unfair treatment during the request process.
Without a valid housing request, individuals may experience the following refusal:
Claiming that housing is unavailable without any proper reasons;
Changing previously discussed conditions or costs because of the person's sex, race, disability, etc.;
Falsely claiming that the accommodation is already sold or not available.
If any of the situations mentioned above occur with an individual's assistance animal, it is considered illegal, and the person should report it to the ADA. The purpose of submitting a proper housing accommodation request is to improve the quality of life for those with disabilities and to prevent any discrimination when searching for suitable housing.
What Information to Include in a Housing Accommodation Request?
The reason for needing the animal
The animal's breed and size
Any training or certifications the animal has
How the animal will not cause any disruptions to the property
Any necessary accommodations the person may need in the housing unit.
Are Housing Accommodation Request and Doctor's Letter the same documents?
No, these are two different documents required for different purposes. A Doctor's Letter of recommendation confirms one's disability and the need for a legit service dog or emotional support animal, while a Reasonable Accommodation Request is an official appeal to the landlord to inform them about the pet rights to live with the owner in the apartment, house, or any other housing type.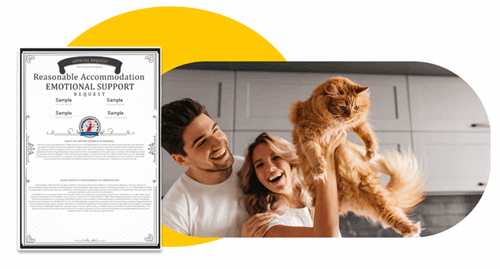 How to Get a Housing Reasonable Accommodation Request
If you're wondering how to get a housing reasonable accommodation request for your assistant animal, you can do it yourself by following the process outlined by the Americans with Disabilities Act (ADA). However, if you want to save time and effort, MyServiceAnimal offers a service that provides a ready-made letter with all the necessary signatures and agreements.
All you need to do is provide the required information about you and your assistant animal:
Handler name;
Pet type;
Breed;
Pet name;
Note about your special needs.
Once you've provided this information, MyServiceAnimal can create your personal housing reasonable accommodation request online or send it to your address. You should receive it within three to five working days. If your request is ignored or rejected without any valid reason, you can contact Fair Housing and file an official complaint.
 3 steps to order a Housing Request online on our website:
Fill out the necessary information:
Choose your preferred delivery method: You can select between digital requests in PDF format or physical delivery.
Select your payment method and complete the payment process using a debit or credit card or PayPal.
Once you have completed these three steps, you will receive a confirmation email with the details of your order, and we will begin processing it as soon as possible.  The PDF form will be sent to your email within an average of 2 working hours (up to 8 hours), including Saturdays and Sundays.
Useful MyServiceAnimal Service and Products
MyServiceAnimal offers a range of useful services and products for individuals with service animals and emotional support animals. These include:
Description Last update:
November 25, 2023