Most service dog handlers choose to have accessories that show the status of the pet to the people around them. In this way, you demonstrate that the dog is a working animal that is trained specifically for the disability of the person and is currently on duty.
What is an ADA Vest for a Service Animal?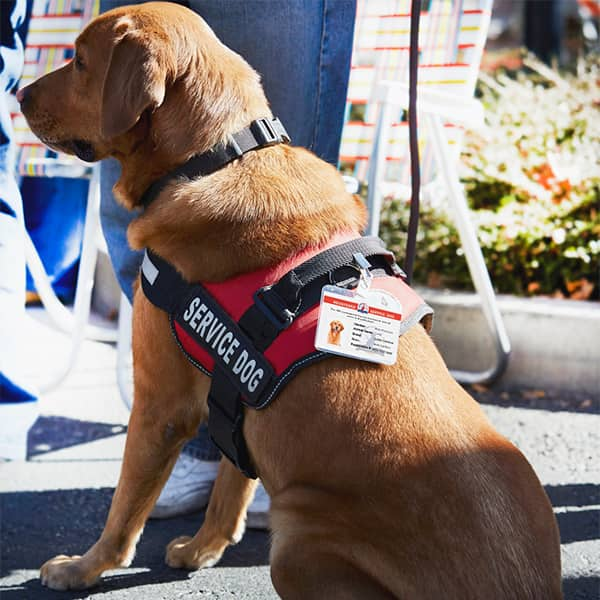 A service dog vest (also known as an ADA harness) is an accessory that shows people that your dog is with you in order to help you with your disability. It is not required, but a lot of owners choose to have it to avoid uncomfortable talks and problems that may occur in public places.
On our website, vests are available for dogs according to their breed, size, weight, and other factors that you can clarify when ordering items. Also, vests are available in different variations: with pockets, handles, of various colors, etc. If you search for a specific design, or brand or have any questions – contact customer support to consult. We will help you to find the perfect accessory for your dog.
How to pick the correct harness size for my ADA dog?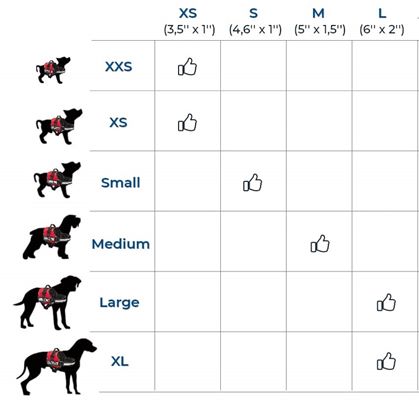 Picking the right harness size for your dog is crucial because they will spend a lot of time wearing it, so the product should fit and be comfortable. To choose the correct option, all you will need is a measuring tape; size the girth (two fingers should fit between the tape and a dog's body).
Also, it shouldn't be too tight around its neck and shoulders (if the skin bunches up, the harness is too small).
Isn't the vest too heavy? Will it be comfortable for my dog to wear it the whole day?
Harnesses on the My Service Animal website are light (they weigh about 2.5 pounds – standard size, 3 pounds – large size). Because of the flexibility and construction of the harness, a dog will be fine wearing it for an extended period with all the needed support and comfort. You don't need to take it off for napping, working, traveling, playing, and other activities performed throughout the day.
Is it mandatory to use a service dog vest?
It is not mandatory to use a vest for a service dog in all cases, as laws and regulations vary depending on the location and situation. However, many organizations and trainers recommend using a vest for service dogs because it helps to clearly identify the animal as a service dog which can help to prevent confusion or misunderstandings in public spaces. Additionally, a vest can also help to protect the dog from injury and prevent it from getting lost. It's good to check the laws and regulations of your location.
Can I order a service dog vest if I don't have a registered service animal or a doctor's letter?
It is not legal to order and use a service dog vest if you do not have a valid and current doctor's letter stating that you have a disability and that a service dog is necessary for your daily life. Service dogs are protected under the Americans with Disabilities Act (ADA) and it is illegal to falsely claim that an animal is a service dog. Additionally, it is important to note that owning a service dog vest or other gear does not make an animal a service dog. The animal must be individually trained to perform specific tasks to mitigate the person's disability.
Service dog vest benefits
It is a well-known fact that, with a service dog, you are allowed to visit all establishments – restaurants, hospitals, malls, cinemas, schools, universities, etc. All doors are open for you, and you can come wherever you would like to. Managers and staff are not allowed to refuse to provide you with a service or ask you to leave. And such products as ADA vests and Service Dog ID cards are meant for showing your status without the need to ask unnecessary questions.
Here are a few potential benefits of using a service dog harness for individuals who have a service animal:
Improved mobility: A service dog vest can help individuals with mobility issues or disabilities better control and manage their service animal while they are out in public.
Enhanced safety: A harness can help ensure that a service animal is safe and secure while in public, and can help prevent the animal from running away or getting lost.
Increased visibility: An ADA harness can help make it clear to others that the animal is a service animal, which can help reduce misunderstandings and potential confrontations.
Greater comfort: A well-fitting harness can help a service dog feel more comfortable and secure while in public, which can have a positive impact on their behavior.
Enhanced training: A service dog harness can be an effective tool for training and reinforcing good pet behavior.
Improved identification: A service dog vest can help identify the animal as a trained service animal, which can be helpful in situations where the animal's role may not be immediately obvious.
Please remember, according to the ADA, people are not allowed to ask you details about your disability, what tasks your dog helps you with, and why you need a service dog. The only two questions they are allowed to ask are whether your pet is a service animal and do you require their help of him.
Moreover, with the help of a harness, your service dog may avoid distractions during their work. When society sees the accessory that proves the status of the animal, it understands that the dog is on duty and cannot be bothered. It is not here to play, get pats, or interact in any other way. The dog is here to support and help its handler. Of course, there still will be some people who do not understand that and ask some questions, but with the vest, the number of these curious individuals will reduce dramatically.
Register and get all the accessories for your Service Dog
At MyServiceAnimal you can also register your Service Dog online. By adding your pets to our database, you prove their status and can show it to anyone who doubts the trustworthiness of your words. Also, if you would like to purchase an ID card, animal tag, or service dog certificate of registration you can do it on our MyServiceAnimal Registrar website.