The Emotional Support Dog Collar is a specially designed collar for dogs that serve as emotional support animals. It is crafted with comfort and functionality, ensuring a pleasant and secure experience for the dog and its handler. These bandanas serve a valuable purpose in public spaces where pets are typically not allowed, allowing handlers to easily demonstrate the need for their ESA's presence without facing numerous uncomfortable inquiries.
ESA Collar Characteristics
The collars are versatile and suitable for various small animals such as cats, raccoons, mini pigs, and other small pets. The available bandana sizes are as follows:
Small (S): Adjustable length ranging from 10″ to 16″ with a collar width of 3/4″.
Medium (M): Fits neck sizes between 14″ and 20″ with a collar width of 1″.
Large (L): Designed for neck sizes ranging from 16″ to 24″ with a collar width of 1″.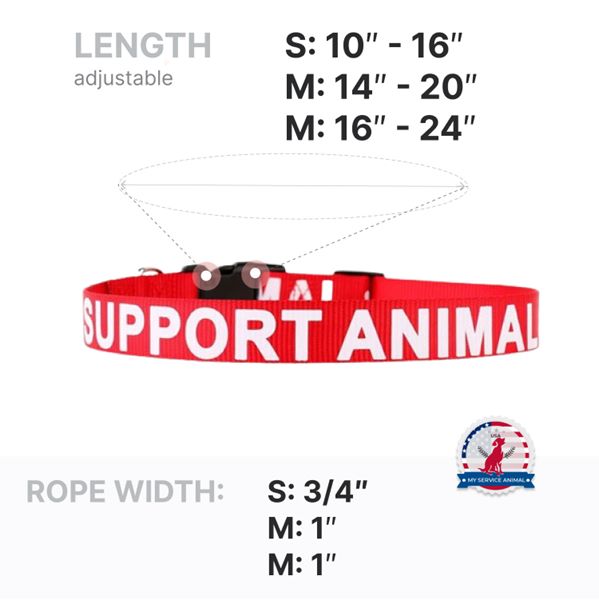 To make sure the collar is not too tight, measure the girth of your pet's neck before choosing the size. As a dog will wear it all the time, it must be comfortable. If you have trouble finding the right option, contact us so that we will pick the best variant for you.
Key Benefits of an Emotional Support Animal (ESA) Collar
Improved identification: The collar helps clearly identify the animal as an emotional support animal, making its role more apparent even in situations where it may not be immediately obvious.
Enhanced recognition: By wearing an ESA collar, the animal is easily recognized as an ESA by landlords, airlines, and other entities that are legally obligated to accommodate service animals.
Reduced misunderstandings: The collar reduces misunderstandings and potential conflicts by clearly indicating that the animal is an ESA and is entitled to specific rights and protections under applicable laws and regulations.
Improved access: An ESA collar can assist individuals with their ESA in gaining access to housing and transportation options that may otherwise be restricted to pets.
Enhanced peace of mind: The collar provides a sense of security and peace of mind, knowing that the animal is properly identified and protected under relevant laws and regulations.
The Importance of the Accessories for Emotional Support Animals
Accessories for emotional support animals, such as vests and collars, are essential tools for ESA handlers. These accessories help distinguish their animals as emotional support animals and minimize the need for explanations or uncomfortable questions in public places. By wearing these accessories, handlers can create awareness and respect for their animal's role without disclosing personal details. These accessories foster a more inclusive environment and enable handlers to navigate public spaces confidently and comfortably. These accessories enhance the overall experience of ESA handlers by fostering a more inclusive and supportive environment. They promote empathy, respect, and understanding, allowing handlers and their emotional support animals to navigate public spaces with greater confidence and ease.
Emotional Support Animal Additional Accessories

At MyServiceAnimal you can register an Emotional Support Animals ID tag through our database, which serves as proof of their status and can be shown to anyone who doubts their legitimacy. Additionally, we provide the necessary documentation to ensure convenience and peace of mind for you and your assistant pet.
ESA Certificate – A non-mandatory document verifying that a qualified mental health professional prescribed the animal.
Housing Reasonable Accommodation Request – A letter to your landlord explaining your need for a cost-free accommodation for your support animal in your residence.
Take your assistance animal recognition to the next level and avoid unwanted attention with our range of ADA accessories. With our accessories, you can also increase control over your pet in public spaces, making outings less stressful for both you and your furry companion. Browse our shop for a variety of accessories for your assistant pet:
Displaying your ESA pet's special status in public raises awareness and ensures you and your animal are not disturbed. It also helps avoid uncomfortable situations in establishments by making it clear that you and your pet must not be separated or denied entry.
Description Last update:
September 26, 2023