A Therapy Animal ID Card is an official identification card that recognizes an animal's status as a therapy animal. These animals offer emotional support and comfort to people in hospitals, nursing homes, schools, and other settings. Unlike service animals, therapy animals do not have the same legal protections and are not required to undergo specific training to perform tasks.
Legitimate Therapy Animals Registration
Registering a therapy animal is a relatively simple process compared to other service animal registration types. However, it is important to note that not all states recognize therapy animals with legal rights, and the requirements for visiting public places such as schools, hospitals, and daycares can vary significantly.
To be eligible for therapy animal registration, the animal must have a calm demeanor, be comfortable with physical contact from strangers, not be easily frightened, and exhibit overall patient behavior. In addition, the handler doesn't need to have a qualifying mental or emotional disability and a recommendation letter from a licensed mental health professional, as pets do not necessarily have to help the owner with therapy, they are intended to help other people.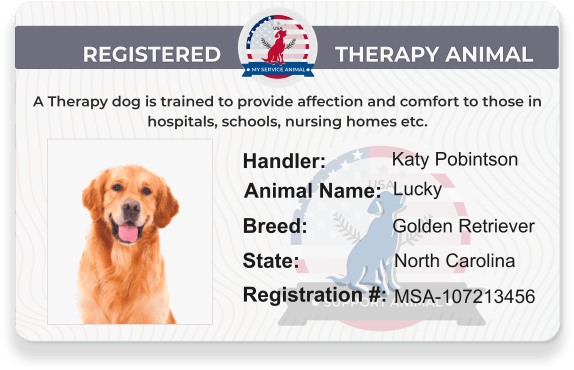 What benefits will you enjoy after registering your pet as a Therapy Animal?
After professional training, a handler can take their dog to places with people who need moral support. It includes hospitals, nursing houses, schools, various rehabilitation facilities, and others. With the help of an animal, it is possible to conduct animal-assisted therapy and decrease the feeling of loneliness, eliminate negative obsessive thoughts, make the socialization process much easier, and simply provide comfort for those who need this.
Unlike service animals and support animal therapy dog ID cards do not give so many benefits to the pet and its owner. They do not have special access to public establishments, flights, or rental housing; however, it can be useful in some other ways.
Trained and registered therapy animals are allowed to become mental health support to those who need it. They are able to become one of the following types of therapy animals:
Therapeutic visitation dogs. These mainly visit various rehabilitation facilities together with their owners;
Animal-assisted therapy dogs. These dogs help patients who are on the way to their full recovery. They can help with certain skills, assist in exercise programs, or be there to make it easier to concentrate on the actual tasks;
Facility therapy dog. These dogs constantly live in such places as nurses' homes and hospitals and help people to go through hard times and comfort them when it is needed.
Therapy Animal states law
There is no federal law that specifically regulates therapy animals. However, the use of therapy animals is generally covered under the Americans with Disabilities Act (ADA) and the Fair Housing Act (FHA) as a reasonable accommodation for individuals with disabilities. Additionally, some states have their own laws that provide protection for therapy animals and their handlers. It is important to check the laws and regulations specific to your state to ensure that you and your therapy animal are protected.
For example:
In California, the Unruh Civil Rights Act prohibits discrimination against individuals with disabilities who use service or support animals, including therapy animals. In Florida, the law allows therapy animals to accompany their handlers in all public places, including restaurants, hotels, and grocery stores.
New York's therapy animals are protected under the state's Human Rights Law. Which prohibits discrimination against individuals with disabilities who use service animals or emotional support animals.
In Texas, there is no specific state law regarding therapy animals. However, the Texas Health and Safety Code does define "assistance animals" and grants individuals with disabilities the right to be accompanied by their assistance animal in housing accommodations and public places.
Florida's therapy animals fall under the category of emotional support animals. Under Florida law, individuals with ESAs have the right to live with their animals in rental housing and to fly with them in the cabin of an airplane without paying pet fees.
Virginia's therapy animals are not covered by the state's service animal law, which only pertains to service animals for individuals with disabilities. However, Virginia does have a law that allows therapy dogs to visit schools as part of an approved program. The law states that a dog that is trained and tested in accordance with the therapy dog program guidelines and is accompanied by a handler may visit public schools for the purpose of educational or therapeutic activities. Additionally, the Virginia Department of Health provides guidelines for the use of therapy animals in healthcare settings, including hospitals and nursing homes. These guidelines require that therapy animals be clean, well-groomed, and have current vaccinations and health screenings.
In Ohio, there are no specific state laws regarding therapy animals.
Georgia does not have specific laws regarding therapy animals
If you are uncertain about the specific therapy animals laws in your state and you are subject to service dog or emotional support animal registration requirements, we encourage you to use such type of pet registration.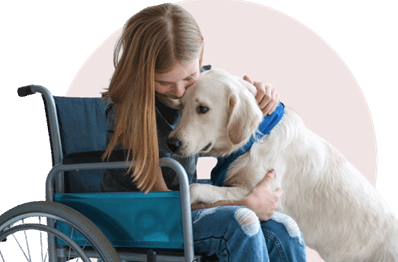 Who is eligible for a Therapy animal?
Technically, anyone can register their dog as a therapy animal. However, for a dog to be considered a legitimate therapy animal, it should go through proper training and evaluation to ensure that it has the appropriate temperament and behavior necessary to provide comfort and support to those in need. Additionally, certain organizations and institutions may have specific requirements for therapy animals, such as being registered with a particular therapy animal organization or having certain vaccinations. It's important to do research and understand the specific requirements and guidelines before registering a dog as a therapy animal.
How can therapy animals help a person?
There is no doubt that it is incredibly beneficial to have a therapy dog around; that's a fact. These animals have a remarkable impact on one's well-being and emotional condition, so it's pretty understandable why their services are so popular in establishments associated with stress and negative emotions: hospitals, nursing houses, prisons, and so on.
The primary purposes of therapy animals may vary from person to person, but the most common tasks of those are:
Anxiety relief and moral support;
Blood pressure-lowering;
Socialization improvement;
Dementia patients' treatment.
However, stress relief is the main purpose of therapy animal meetings. People feel more comfortable around dogs, so it makes the whole socializing process much more manageable; patients can open up to others, get distracted from certain problems, and improve their general health conditions. Moral support is vital for a fast recovery process and rehabilitation, so why don't combine it with some playtime with a four-legged friend?
What's the difference between a Therapy Dog and an Emotional Support Animal?
Therapy animals come in different shapes, sizes, and animal types and provide comfort to people in hospitals, old age homes, rehabilitation facilities, and other places where therapeutic assistance could be of importance. Therapy dogs improve the lives of the people around them. However, they do not have the same rights as emotional support animals.
While both animals provide similar types of support, therapy dogs do not have the same rights as ESA. Registered Emotional Support Animals require a prescription letter in order to travel or live in pet-free housing. Therapy animals do not require prescription letters. Further, therapy dogs do not have the same special access rights.
How to register for therapy dogs at MyServiceAnimal?
We offer affordable Threapy Pet registration to help you confirm your animal's status when needed. Complete the process in just 3 simple steps:
Provide the required information about the Therapy Animal owner (you can choose up to 2 handlers) and pet information: name, type, and breed.
Optionally, attach an animal photo. We recommend taking the photo at your pet's height. If you have difficulty with this step, you can email the photo to us after placing your order.
Fill out the form and proceed with payment using a Debit/Credit card or PayPal. Afterward, you'll receive a link to your pet's digital card. We suggest saving it in your bookmarks. Your Therapy Pet physical ID card will then be queued for production. See the production and delivery terms in the Frequently Asked Questions section.
Congratulations, your pet is now registered! If you need further assistance, our managers are always available to ensure the best customer experience.
A crucial feature of registering your therapy animal with us is that it includes not just a physical ID card, but also online registration in our database. You can conveniently access and view the digital ID card using only the registration number on our website at https://myserviceanimal.org/id-confirmation/. This ensures easy verification and added convenience for both you and others who may need to confirm your pet's assistant status. Please find the Threapy pet digital ID sample below.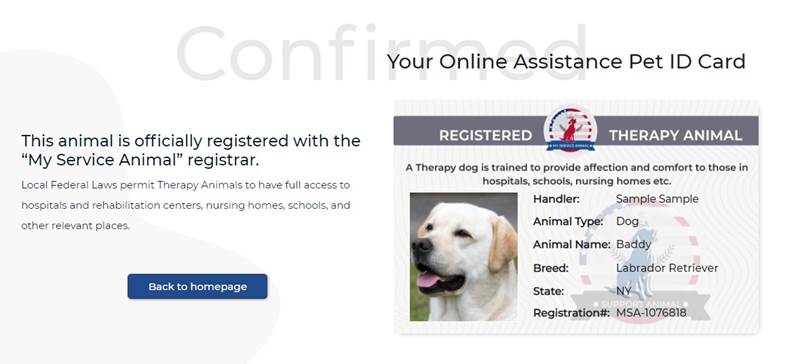 Essential Therapy Pet accessories
Unfortunately, we do not have accessories designed specifically for therapy animals, but you have every right to use accessories from the marking of an emotional support animal.
Take your assistance animal's recognition to the next level and avoid unwanted attention with our range of ESA accessories. With our accessories, you can also increase control over your pet in public spaces, making outings less stressful for both you and your furry companion. Browse our shop for a variety of accessories for your assistant pet:
Enhance your Threpy Dog experience with our ID Card & Registration
The Therapy Pet ID card, along with our digital database, makes it easier for others to verify your animal's special status, facilitating smoother experiences in housing, travel, and public spaces. By registering your pet as an assistance animal with us, you are taking an important step towards a more comfortable and manageable daily life, ensuring that your loyal companion is always by your side to provide therapy support for people that need it.
Description Last update:
September 28, 2023