The Service Dog Full Kit Bundle is a comprehensive package that includes all the necessary accessories and documentation for registering and identifying your service dog. This kit contains a high-quality service dog vest, an ID card, and a certificate of registration that verifies your dog's status as a service animal. By using this ADA bundle, you can avoid unnecessary confrontations and prove that your dog is a working animal that is trained to assist you with your disability.
What is Included in the Service Dog Registration Kit?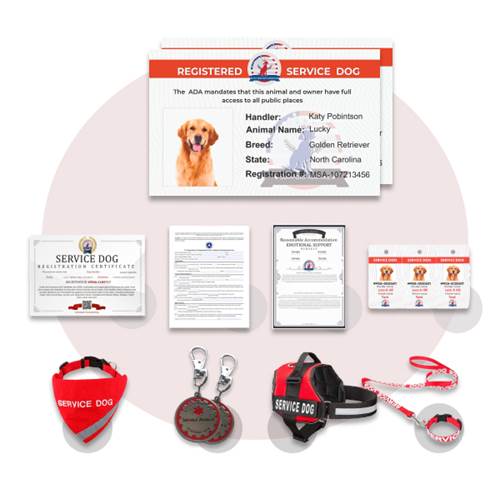 The Service Dog Full Kit Bundle from My Service Animal provides a convenient and cost-effective solution for service dog owners. With just one click, you can purchase all the necessary items for your service dog, including a service dog vest, leash, collar, registration, ID cards, and forms for housing and air travel. This bundle saves you time and money compared to purchasing each item separately, and all sizes are adjustable to fit any dog comfortably.
With expedited and premium shipping options available, you can have everything you need for your service dog delivered right to your door.
You may also consider enhancing your vest with additional assistance animal patch sets or creating bespoke patch sets featuring your dog's name or other unique designs. Additionally, you have the option to supplement your order with premium, robust tactical service dog harnesses.
If you would like to learn more about the benefits of having a Service Animal, the requirements, and your responsibilities, please check out our ADA registration product page. There, you will find all the necessary information to help you understand the registration process and the benefits of having a Service Animal.
If you are interested in learning about the parameters and benefits of our accessories, please check out the relevant assistant animal accessories page. There, you can find detailed information about our products and their benefits, as well as the different sizes and colors available. We believe in providing our customers with all the information they need to make an informed decision when choosing the right accessories for their furry friend.
If you don't require the full Service Dog Kit, you can register your Service Dog separately and purchase the required accessories during the registration process. Alternatively, if the Service Animal Bundle is not what you need, you can always order individual items separately, rather than as part of an ADA kit.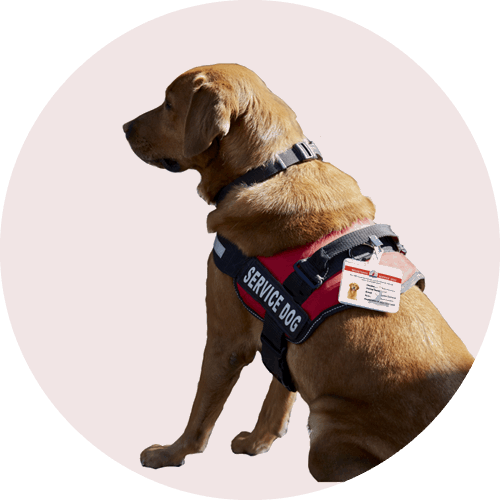 Is this kit included a doctor's note?
At MyServiceAnimal, we do not provide ADA doctor's letters or any medical documentation. We only provide registration and necessary accessories for service animals. It is the responsibility of the pet owner to obtain the appropriate documentation for their animal's needs. This letter must be on the mental health professional's official letterhead, include their license number, and state that the person has a disability and requires an ADA to alleviate one or more symptoms of that disability.
Full Kit ADA Dog Registration Sizes
For quick reference on the correct size, check out our infographic on the average leash and accessories size for a breed in adulthood. Keep in mind that this is only an average and it's more effective to consider weight and the higher parameters.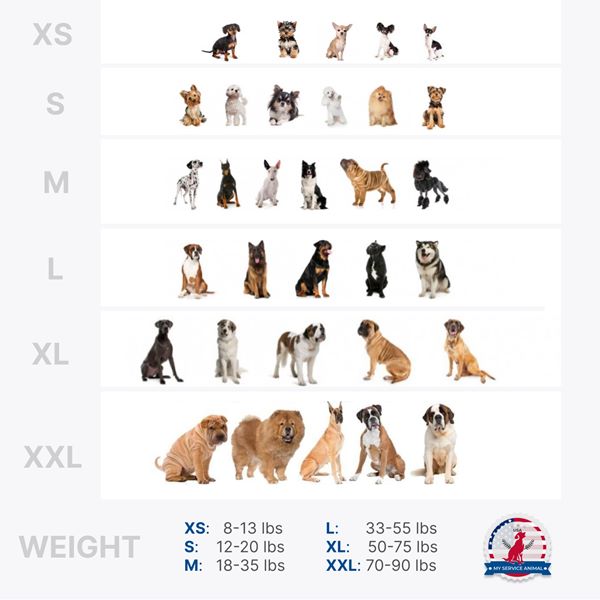 As the main accessory that needs to fit comfortably on your pet is the harness, please pay attention to its corresponding sizes. Other accessories such as a bandana and collar will be selected based on the weight of your dog. Please note that the leash, bandana, and collar are adjustable within certain limits to fit your furry friend perfectly. We understand that every dog is unique, and we want to ensure that our accessories provide maximum comfort and security for them. That's why our team takes into account the weight and size of your dog, as well as the specific needs of the service animal when selecting the appropriate accessories. With our carefully selected accessories, your service dog will look and feel great while assisting you with your daily tasks.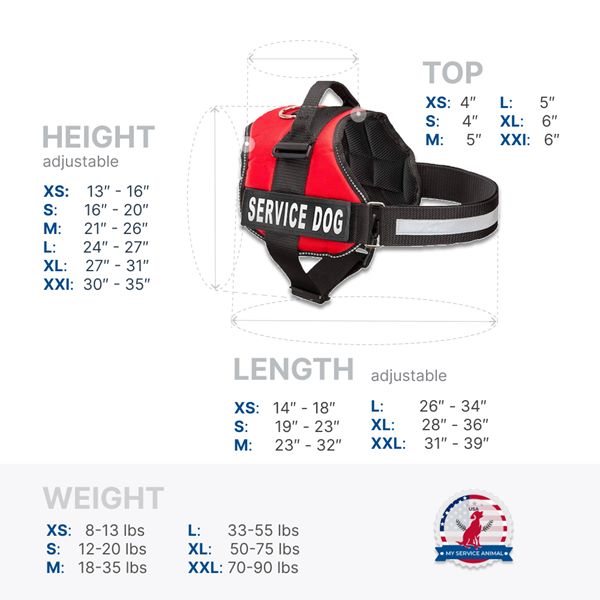 How to order a Service Animal Bundle?
If you don't have a doctor's note yet, you can obtain an affordable and legitimate ADA letter by contacting your personal therapist or psychiatrist. You may be able to obtain the letter for free. The letter should include the doctor's professional opinion that you have a disability and that a service animal would be beneficial in helping you perform daily tasks.
Complete the ADA Full kit order in just 3 simple steps:
Provide the required information about the ADA owner (you can choose up to 2 handlers) and pet information: name, type, and breed.
Optionally, attach an animal photo. We recommend taking the photo at your pet's height. If you have difficulty with this step, you can email the photo to us after placing your order.
To obtain your service dog registration bundle, simply fill out the online form and make a payment using either a Debit/Credit card or PayPal. Once completed, you will receive a link to your pet's digital card, which we recommend saving for future use. In addition, digital copies of your housing request, DOT form, and certification will be sent to you via email within 4 business hours. Your physical ID card, paperwork, and accessories will then be queued for expedited production and premium delivery. For more information on production and delivery times, please refer to the Frequently Asked Questions section on our website.
Congratulations, your service animal is now registered! If you need further assistance, our managers are always available to ensure the best customer experience.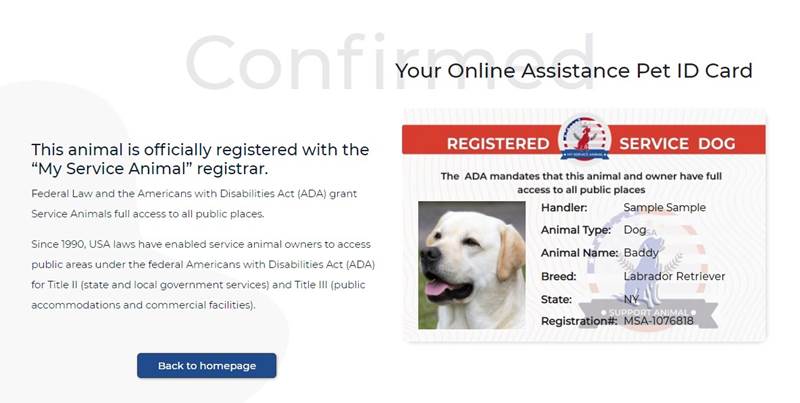 Description Last update:
October 17, 2023