An emotional support animal vest is a specialized accessory designed to provide comfort, support, and control for individuals with emotional or psychological disabilities and their emotional support animals (ESAs). This harness is specifically designed to be worn by the ESA and serves as a secure and comfortable attachment point for a leash, allowing the handler to maintain control and guidance in public spaces.
What Does an

ESA Vest

Look Like

?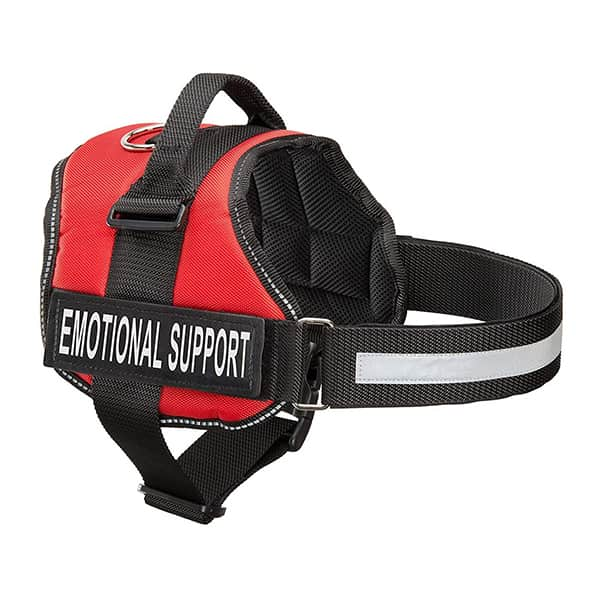 An emotional support animal vest, also known as an ESA harness, is an accessory that signals to others that your dog, cat, raccoon, or other support animal is there to help you with your disability. Although it is not required by law, many owners choose to use it to avoid unwanted attention and potential conflicts in public places. Support animal handlers often prefer to have accessories that clearly display the dog's status as an assistant animal trained specifically to assist with their disability.
With a support animal, you have the right to access all types of establishments such as restaurants, hospitals, malls, cinemas, schools, and universities. You are allowed to go wherever you want to without being denied entry or service. The use of products like ESA vests and Support Animal ID cards can help avoid unnecessary questions by quickly and easily indicating your dog's status to managers and staff.
Benefits of using ESA harness:
Harness for an emotional support animal is basically a pass to the places where animals are not allowed. If you have a proven registration certificate, you have all rights to take your dog or cat with you. Moreover, the ESA rules claim that employees in such places cannot ask you anything about the emotional issues you suffer. The only thing they can ask is if your animal is actually an ESA.
Improved mobility: The harness helps individuals with mobility issues or disabilities have better control over their emotional support animal while in public.
No Choke / No Pull Harness: Provides a humane and effective way to control your assistant pet without causing discomfort or stress.
Comfort for animals: Mesh material on the bottom side for a breathable lightweight for your dog. Adjustable quick-release buckles for the perfect fit and ease to wear.
Enhanced safety: The vest ensures that the support animal is secure and less likely to run away or get lost while out and about.
Increased visibility: The harness makes it clear to others that the animal is an emotional support animal, reducing misunderstandings and potential confrontations.
Greater comfort: A well-fitting harness provides comfort and security to the emotional support animal, positively influencing its behavior in public settings.
Enhanced training: An emotional support vest can be a valuable tool for training and reinforcing positive behavior in the emotional support animal.
Reflective band: it enhances safety by increasing visibility, especially in low-light conditions. This ensures the well-being of the animal, its owner, and others in the vicinity. Secondly, the reflective vest clearly identifies the animal as an ESA, reducing confusion and potential confrontations in public spaces. It also aids in navigating crowded areas and unfamiliar environments. Moreover, the reflective vest serves as a signal to emergency responders and officials, enabling them to quickly recognize the presence of an ESA in case of emergencies or natural disasters. Lastly, the vest helps prevent the animal from escaping and getting lost by making them more visible to their owner and others.
By utilizing an emotional support animal harness, individuals can enjoy these benefits and experience a smoother and more enjoyable outing with their ESA.
MyServiceAnimal support dog vests benefits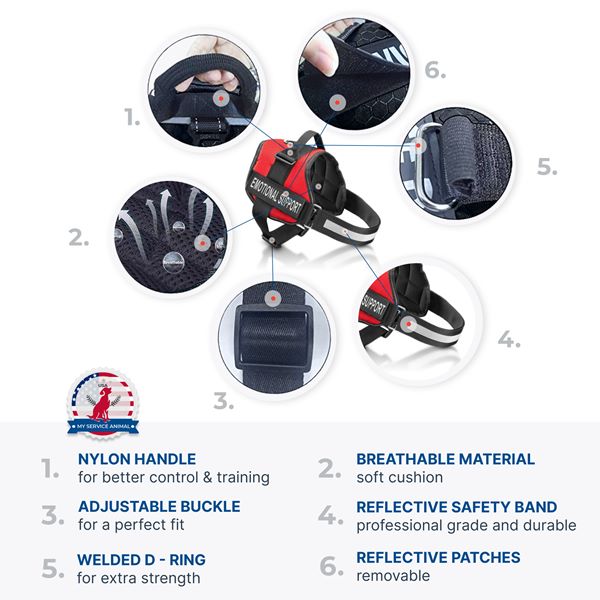 At our company, we take responsibility for the quality and functionality of the accessories we sell, including ESA dog vest patterns, and we have made sure to combine all the necessary and useful functions in this ESA harness.:
handle for secure animal control;
made of durable, reliable, and breathable materials;
all sizes of our service animal harnesses are adjustable to fit comfortably on a range of animals, from small sizes to large service dog vest.
provided in front with reflective strips for increased safety during night-time use;
D-ring for attaching the leash;
Removable patches. You can order some extra assistant animal patch sets, or create custom-made patch sets with your dog name or any other ideas.
How to Pick the Correct Vest Size for My Support Dog, Cat, or Other Animals?
Picking the right vest size for your assistant animal is crucial because they will spend a lot of time wearing it, so the product should fit and be comfortable. To choose the correct option, all you will need is a measuring tape; size the girth (two fingers should fit between the tape and a dog's body). Also, it shouldn't be too tight around its neck and shoulders (if the skin bunches up, the harness is too small). Please choose a service dog vest extra small really for toy dogs.
You can find all sizes of leashes in the infographic below. Pay attention to the weight parameter, as it is often a key criterion: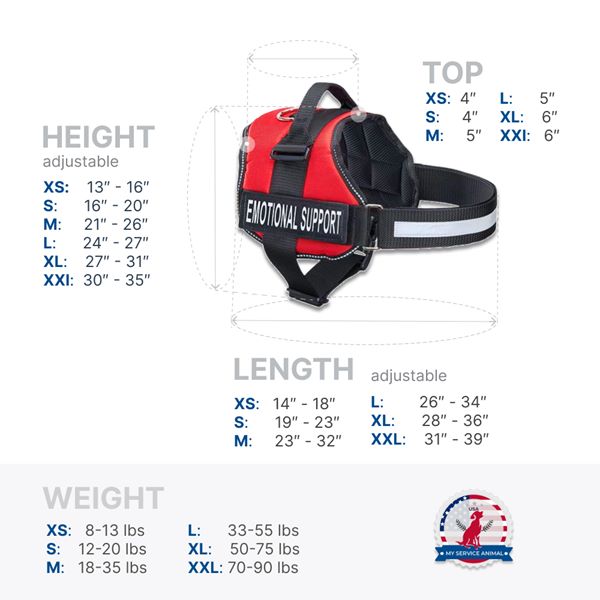 For most ESA cats, the ideal size for a vest is XS. However, for larger breeds such as Maine Coon, Ragdolls, Norwegian Forest Cats, and other big breeds, an S-size harness would be more suitable. It's important to ensure a proper fit for the comfort and safety of your ESA. Additionally, an extra small vest can also be used for other support animals like small pigs, raccoons, and other animals that would feel comfortable wearing it.

How to Get a Support Animal Vest
To get an ESA vest online, you can follow these simple steps:
Choose the vest that fits your dog's or other support animal's size and needs from our size selection.
Add the vest to your cart and proceed to checkout.
Provide your shipping and billing information, and make the payment. You can pay by direct/credit card and PayPal.
Once your order is processed, your vest will be shipped to the provided address.
Shopping on our website will be convenient and safe, and it will be much cheaper than looking for where to buy dog ESA dog vests near you.
Can I order a Support Animal vest if I don't have a registered ESA or a doctor's letter?
Yes, you can order an ESA vest from our company without having a registered assistant animal or a doctor's letter, as it is not regulated by law and there are no restrictions. Additionally, it is important to note that owning an ESA dog vest or other gear does not give an animal emotional support. The animal must mitigate the person's disability and the owner has to have a valid ESA doctor's letter.
Is it mandatory to use an ESA Vest?
It is not mandatory to use a vest for a support animal in all cases, as laws and regulations vary depending on the location and situation. However, many organizations and trainers recommend using a harness for support dogs because it helps to clearly identify the animal as a support dog which can help to prevent confusion or misunderstandings in public spaces. Additionally, a vest can also help to protect the dog from injury and prevent it from getting lost. It's good to check the laws and regulations of your location.
Is there an official Emotional Support Dog Vest
There are no official support dog harnesses designated by the Americans with Disabilities Act (ADA) or any other governing agency. However, there are certain standards and guidelines that emotional support dog vests should meet in order to effectively identify the dog as a working animal. It is important that the vest clearly indicates that the dog is a asisstant animal and the vest should be well-made and durable to withstand the demands of everyday use. Additionally, the vest should be comfortable for the dog to wear for extended periods of time.
Can I order an ESA vest if I don't have a doctor's letter?
It is not legal to order and use an ESA vest if you do not have a valid and current doctor's letter stating that you have a mental or emotional disability and that an emotional support animal (ESA) is necessary for your daily life. The Fair Housing Act (FHA) and the Air Carrier Access Act (ACAA) protect individuals with ESAs, but it is still important to have a doctor's letter to verify the need for an ESA. A person must have an emotional or mental disability as defined by the law, and an ESA must provide support that alleviates one or more identified symptoms of the person's disability. It is illegal to falsely claim that an animal is an ESA, and it is important to note that owning an ESA vest or other gear does not make an animal an ESA.
Emotional Support Animal Additional Accessories

At MyServiceAnimal you can register an Emotional Support Animals ID tag through our database, which serves as proof of their status and can be shown to anyone who doubts their legitimacy. Additionally, we provide the necessary documentation to ensure convenience and peace of mind for you and your assistant pet.
ESA Certificate – A non-mandatory document verifying that a qualified mental health professional prescribed the animal.
Housing Reasonable Accommodation Request – A letter to your landlord explaining your need for a cost-free accommodation for your support animal in your residence.
Take your assistance animal recognition to the next level and avoid unwanted attention with our range of ADA accessories. With our accessories, you can also increase control over your pet in public spaces, making outings less stressful for both you and your furry companion. Browse our shop for a variety of accessories for your assistant pet:
Displaying your ESA pet's special status in public raises awareness and ensures you and your animal are not disturbed. It also helps avoid uncomfortable situations in establishments by making it clear that you and your pet must not be separated or denied entry.
Description Last update:
November 25, 2023