What is an emotional support animal harness, and why do so many ESA handlers choose to purchase it for their pets? The thing is, some people are not aware of the whole concept of the animal as moral support; that is why sometimes problems in public establishments, rented places, and airports may appear.
A vest is a perfect way to show such uneducated people that you and your dog shouldn't be disturbed, be asked uncomfortable questions, or be aggressive. It is basically a sign that this animal is not just a pet but a real supporting companion.
What exactly is an ESA Vest?
A harness is also known as a vest, and it is meant to demonstrate to people that you and your pet should not be disturbed. It also allows those with EASs to visit public places freely without the need to explain themselves. This accessory is not required, but most ESAs owners still choose to have it for overall comfort.
You have a lot to choose from at My Service Animal. Vests for various breeds, sizes, weights, etc., are available here. You may also pick colors, with or without handles, pockets, etc. Our customer support is here to help in case you have any questions about a specific type of vest you are looking for. Your happiness is our main priority!
What benefits does an ESA harness give?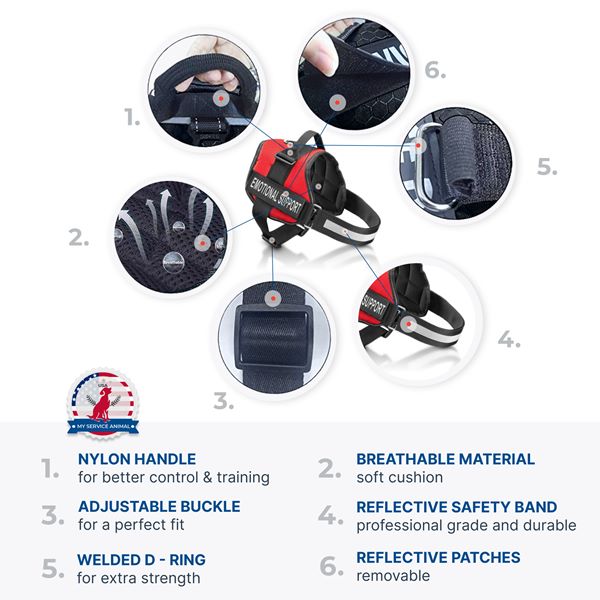 Harness for an emotional support animal is basically a pass to the places where animals are not allowed. If you have a proven registration certificate, you have all rights to take your dog or cat with you. Moreover, the ESA rules claim that employees in such places cannot ask you anything about the emotional issues you suffer. The only thing they can ask is if your animal is actually an ESA.
An emotional support harness can provide several benefits for individuals who have an emotional support animal (ESA). Some of the benefits may include:
Improved mobility: An emotional support vest can help individuals with mobility issues or disabilities better control and manage their emotional support animal while they are out in public.
Enhanced safety: A harness can help ensure that the support animal is safe and secure while in public, and can help prevent the animal from running away or getting lost.
Increased visibility: Vest can help make it clear to others that the animal is an ESA, which can help reduce misunderstandings and potential confrontations.
Greater comfort: A well-fitting harness can help an support animal feel more comfortable and secure while in public, which can have a positive impact on their behavior.
Enhanced training: An emotional support harness can be an effective tool for training and reinforcing good behavior in an emotional support animal.
And, as we have already mentioned, the percentage of uncomfortable inappropriate questions will decrease dramatically if you have any ESA accessories. It is also a nice bonus!
Reflective is important for safety
Having a reflective animal support vest is important for several reasons. Firstly, it can help to increase the visibility of the animal in low light conditions, such as at night or in dimly lit areas. This can help to ensure the safety of the animal and its owner, as well as other people and animals in the area.
Secondly, a reflective vest can help to clearly identify the animal as an ESA. This can prevent confusion or misunderstandings in public spaces, and may make it easier for the animal and its owner to navigate through crowded areas or unfamiliar environments.
Thirdly, a reflective vest can help to signal the presence of an ESA to emergency responders or other officials, which can be especially important in the event of an emergency or natural disaster.
Lastly, reflective vests can also help to prevent the animal from escaping and getting lost by making them more visible to their owner and others.
How to pick the correct vest size for my ESA dog or ESA cat?
Picking the right support dog vest is crucial because they will spend a lot of time wearing it, so the product should fit and be comfortable. To choose the correct option, all you will need is a measuring tape; size the girth (two fingers should fit between the tape and a dog's body).
Also, it shouldn't be too tight around its neck and shoulders (if the skin bunches up, the vest is too small). After measuring everything, check out the table: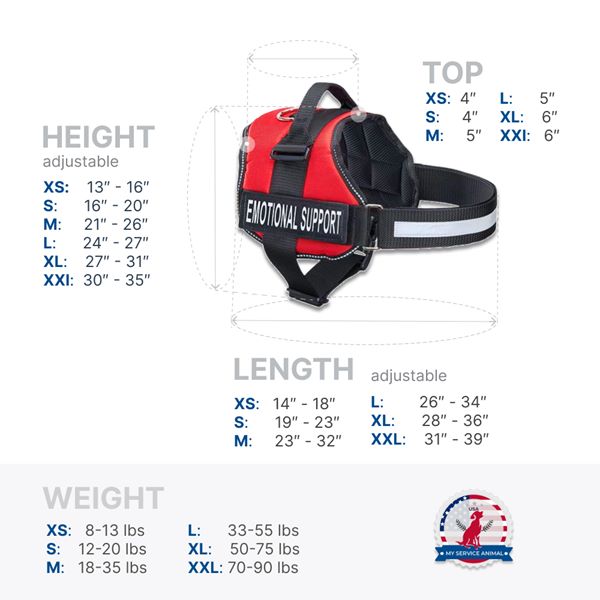 For ESA cats in most cases, the right size will be an XS Vest. For sure for adults Maine Coon, Ragdolls, Norwegian Forest Cats, and other big breeds you should take an S harness size.
Of course, you can take an extra small vest for other supports animals as well for small pigs, raccoons, and other animals who will feel comfortable in it

Isn't the harness too heavy? Will it be comfortable for my dog to wear it the whole day?
ESA Vest on the MyServiceAnimal website is light (they weigh about 2.5 pounds – standard size, 3 pounds – large size). Because of the flexibility and construction of the harness, a dog will be fine wearing it for an extended period with all the needed support and comfort. You don't need to take it off for napping, working, traveling, playing, and other activities performed throughout the day. For cats, we do not recommend leaving them in a vest for the whole day.
Can I order an ESA vest if I don't have a doctor's letter?
It is not legal to order and use an ESA vest if you do not have a valid and current doctor's letter stating that you have a mental or emotional disability and that an emotional support animal (ESA) is necessary for your daily life. The Fair Housing Act (FHA) and the Air Carrier Access Act (ACAA) protect individuals with ESAs, but it is still important to have a doctor's letter to verify the need for an ESA. A person must have an emotional or mental disability as defined by the law, and an ESA must provide support that alleviates one or more identified symptoms of the person's disability. It is illegal to falsely claim that an animal is an ESA, and it is important to note that owning an ESA vest or other gear does not make an animal an ESA.
Register and get all the accessories for your Emotional Support Animal
According to the ADA rules, ESAs and therapy dogs have to be registered or have a valid doctor's letter. That is why we offer you to do it here quickly, easily, and with our assistance (if needed). Also, if you would like to purchase an ID card, tag, certificate of registration, or any other items at the best price – let us know.  You can find more accessories for your ESA pet here.
At MyServiceAnimal, you can register emotional support animal, service dogs and therapy animals. By adding your pets to our database, you prove their status and can show it to anyone who doubts the trustworthiness of your words. If you need some