Register PSD: Psychiatric Service Dog
Registration of service dogs for people with psychiatric disabilities is an important step in the life of every service animal handler. By doing that, you show the world your dog is not just a pet; it is individually trained to perform tasks for you in order to make life a little bit easier.
After registration, it is also possible to get an additional ID card and other accessories for the PSD that will be very helpful in demonstrating to people it is currently working and cannot be distracted. Even though the Americans with Disabilities Act (ADA) regulations claim it is not obligatory to register service animals, many owners still do it in order to confirm their status.
What is a Psychiatric Service Animal?
Psychiatric service animals are animals that are trained to do tasks for those with mental health problems that substantially limit one or more major life activities for the person. The issues may include depression, post-traumatic stress disorder (PTSD), panic attacks, bipolar disorder, OCD (Obsessive Compulsive Disorder), anxiety, learning disabilities, etc.
Because PSDs are not only assisting people in tasks from their everyday routine but also support their handlers a lot, they are often confused with an emotional support animal (ESA). However, these types of animals are entirely different.
If your dog is a psychiatric service dog, it may perform such tasks as alerting about upcoming panic attacks; helping to be present and not let to zone out; helping in socialization and communication; guiding the handler to a safe place in case they have social anxiety; reminding to take medications on time; preventing destructive behavior, etc.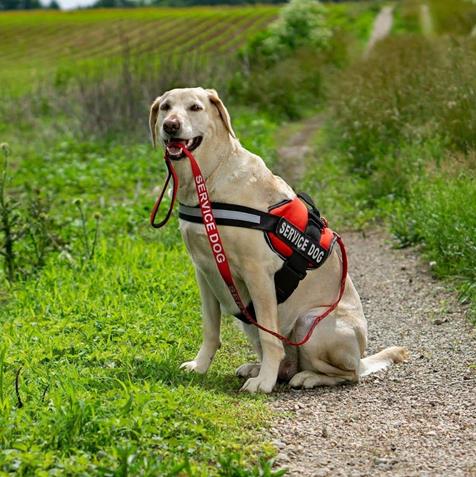 Benefits of Psychiatric Service Dog Registration
If you still do not understand why it is important to register your animal, here is a list of benefits this status gives to you and your dog:
Easier access to public places. Service animals are allowed in public establishments, yes. However, some people are not aware of that and may cause a lot of trouble because of their unawareness. Confirmed by the law status of the animal will spread awareness on this topic, protect you from uncomfortable situations, and show employees they can't refuse to let you in just because you have a dog;
Traveling becomes much more manageable. If you do not want your PSD to be confused with a regular pet, you need to register it and provide a certificate of registration at the airport. In this way, employees will allow the dog to sit with you (near your legs between the seats) during the flight. Just warn people in the airport about this situation before the actual flight, and demonstrate your certificate if it is required. Some airports may ask you to send a copy of the registration certificate via email;
You are allowed to go to any housing with your dog. It doesn't matter if it is a hotel, a rented apartment, or bed&breakfast. If you require the help of a service animal, it can always be with you, even if the place has a pet-free policy. Moreover, they are not allowed to charge extra for living with a pet or extra cleaning in the room. If employees try doing that, you can contact the ADA and have authorities discuss it with them.
Don't worry that some people may not understand the importance of a service animal in your life. This can seem unusual for some of them, but everyone is able to learn and discover new things for themselves. Your comfort is the most important here.
The main duties of a Psychiatric Service Dog?
PSDs are usually trained according to one's mental disability to help perform complicated tasks, as well as to warn about some severe issues coming up (for example, panic attacks).
So, what tasks are usually performed by our four-legged friends?
Regular support during everyday tasks. A service dog reminds a person to take pills, helps to stay active and not oversleep, and makes their emotional conditions better in general;
Helps with medications. Individuals with mental health issues are often forgetful, so a dog should remind them about the drugs. Sometimes they bark, sometimes just bring the bottle with pills to the owner. The final goal is to make sure the handler doesn't forget about the treatment;
Guiding duties. Some people can disassociate because of the medication or during an anxiety attack. That's why it is crucial for a psychiatric service dog to pay attention to their owner, don't leave them alone, and make sure they are safe during those episodes;
Danger alert. It can be related to practically anything: strangers, upcoming panic attacks, strange smells or sounds, etc.;
Helping to stay present. It is incredibly helpful for patients with obsessive-compulsive behavior. The main task of the service dog is to stop harmful behavior and not let a person hurt themselves or keep them present when they zone out (by barking, licking their face, and so on).
Usually, people with the following issues should use the services of a PSD: anxiety, depression, post-traumatic stress disorder (PTSD), bipolar disorder, learning disabilities, OCD (Obsessive Compulsive Disorder), attention-deficit and hyperactivity disorders, autism, etc.
How to register a Psychiatric Service Dog at My Service Animal?
We understand that the time of our customers is priceless and that people have enough duties in their routine, and small tasks can sometimes ruin one's schedule or just be too much to deal with. That's exactly why we always offer our help to each customer to ensure they are not overwhelmed and can register a psychiatric service dog online without spending too much time on this process.
At My Service Animal, the registration process is pretty simple; all you need to do is to follow three steps:
Have a valid letter from the therapist;
Add all required information to the registration form;
Wait until everything is processed.
That's it; now you are a happy owner of an officially registered service dog!
What information is needed to register your PSD dog?
In order to qualify for a psychiatric service dog, you need to get a recommendation letter from a mental health professional that proves you require a PSD due to the disability that stops you from living a full life. Then, you may apply for a PSD and register it at My Service Animal after you get one. Take into account that if you registered your pet with MyServiceAnimal you don't need of psychiatric service dog certification, PSD ID card will be quite enough.
In order to register the dog, you will need to provide us with the following information:
Name and breed of the dog;
Name and phone number of the dog owner;
Street address;
City and the state;
The photo of your pet (it is not required).
After registering, your PSD will be added to the database on our website, so you will be able to demonstrate the status of your pet on the phone. If you order any accessories, they will be delivered to your address in 1-3 working days (sometimes, delays are possible in the post office). If you are not sure how to register your dog as a service dog, contact customer support; we will gladly help you with this process.
Once everything is finished, we will send you your dog's ID card, so you will be able to prove the status of the pet. And don't forget that it's always possible to add some extra items to the order, such as service dog vests, service animal leashes, tags, and other service animal accessories available on the website (make sure to check them out)! Besides, MyServiceAnimal support emotional support animal registration and therapy dog certifications.
All products at My Service Animals are available for animals of different breeds, types, sizes, and other crucial factors, so we guarantee that you will find everything you need here!