Therapy Animal Database Registration involves adding a therapy animal to a recognized database, providing easy accessibility for recognition of the animal as an assistant animal. This registration can be used to demonstrate the animal's status in situations where its presence is questioned or denied. With lifetime validity, the registration includes all relevant information about the animal and can be accessed conveniently from a phone.
Our Therapy Pet Database Registration is an online registration service that provides on-page verification for your support pet.

Please note that it is not a physical product. If you require, you can order a physical Therapy Animal registration with an ID card.
What does Therapy Animal database registration look like?
After successfully database registering your assistant animal, you will have a unique registration number in the MSA format -0000001. You can conveniently access and view the digital ID using only the registration number on our website at https://myserviceanimal.org/id-confirmation/. This ensures easy verification and added convenience for both you and others who may need to confirm your pet's assistant status. Please find the Therapy digital ID sample below.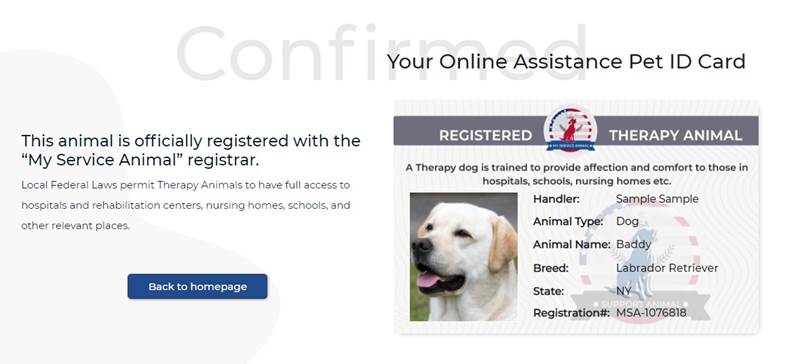 Registration can be completed online only.  If you have a valid registration with MyServiceAnimal you can always reorder a physical ID card here, and you don't need to order a bundle with registration plus an ID card. Thus, if you need to urgently and cheaply register your animal, it is very convenient to take registration in the database, and then, if necessary, you can also buy a physical ID and other documents or accessories.
What benefits will you enjoy after registering your pet in a Therapy pet database?
Unlike service animals and ESA, therapy dog registration does not give so many benefits to the pet and its owner. They do not have special access to public establishments, flights, or rental housing; however, it can be useful in some other ways.
Trained and registered therapy animals are allowed to become mental health support to those who need it. They are able to become one of the following types of therapy animals:
Therapeutic visitation dogs. These mainly visit various rehabilitation facilities together with their owners;
Animal-assisted therapy dogs. These dogs help patients who are on the way to their full recovery. They can help with certain skills, assist in exercise programs, or be there to make it easier to concentrate on the actual tasks;
Facility therapy dog. These dogs constantly live in such places as nurses' homes and hospitals and help people to go through hard times and comfort them when it is needed.
How can therapy animals help a person?
There is no doubt that it is incredibly beneficial to have a therapy dog around; that's a fact. These animals have a remarkable impact on one's well-being and emotional condition, so it's pretty understandable why their services are so popular in establishments associated with stress and negative emotions: hospitals, nursing houses, prisons, and so on.
The primary purposes of therapy animals may vary from person to person, but the most common tasks of those are:
Anxiety relief and moral support;
Blood pressure-lowering;
Socialization improvement;
Dementia patients' treatment.
However, stress relief is the main purpose of therapy animal meetings. People feel more comfortable around dogs, so it makes the whole socializing process much more manageable; patients can open up to others, get distracted from certain problems, and improve their general health conditions. Moral support is vital for a fast recovery process and rehabilitation, so why don't combine it with some playtime with a four-legged friend?
A therapy animal doesn't require training; the only essential thing is that they have to be sociable and well-behaved. So, if you feel that it sounds like something you would like to do with your pet, don't hesitate to try registering your dog as a therapy animal on My Service Animal!
If you've always wanted to help people who deal with their emotional problems and live through some hard times, training your dog as a therapy animal can be a pretty great option. And, as registration is a required step for this, My Service Animal Registrar offers you support in this process.
Dods' assistance is highly demanded in such places as hospitals, different rehabilitation facilities, schools, nursing houses, and other establishments. All because animal-assisted therapies are incredibly helpful in decreasing stress levels, eliminating loneliness, stopping negative obsessive thoughts, as well as improving the socialization process, and providing comfort to those who need it.
So, if your pet is calm, well-behaved, can tolerate strangers and physical contact easily, and can be patient with people overall, you may surely think about this variant. First, you'll need to complete a special training with your animal and complete the registration afterward, but then you'll be able to assist people and make this world a little better place.
Who is eligible for a Therapy animal?
Technically, anyone can register their dog as a therapy animal. However, for a dog to be considered a legitimate therapy animal, it should go through proper training and evaluation to ensure that it has the appropriate temperament and behavior necessary to provide comfort and support to those in need. Additionally, certain organizations and institutions may have specific requirements for therapy animals, such as being registered with a particular therapy animal organization or having certain vaccinations. It's important to do research and understand the specific requirements and guidelines before registering a dog as a therapy animal.
How to register a Threapy Animal at My Service Animal?
Provide the required information about the owner (you can choose up to 2 handlers) and pet information: name, type, and breed.
Optionally, attach an animal photo. We recommend taking the photo at your pet's height. If you have difficulty with this step, you can email the photo to us after placing your order.
Fill out the form and proceed with payment using a Debit/Credit card or PayPal. Afterward, you'll receive a link to your pet's digital card.
We suggest saving your pet verification page in your bookmarks. Congratulations, your support animal is now registered! If you need further assistance, our managers are always available to ensure the best customer experience.
Why is registration required for Therapy Animals?
Only trained and registered animals have the right to work with people in different medical (and not only medical) establishments. After these two steps, a dog may become one of the following types of therapy animals:
Therapeutic visitation dogs. These animals go to various rehabilitation facilities with their owners to spend time with people;
Animal-assisted therapy dogs. These dogs assist patients who are about to recover fully. They are able to help with different skills, assist in training programs, or make it easier to concentrate on their current therapy animal tasks;
Facility therapy dog. These dogs live at such places as nurses' homes and hospitals on a regular basis and help patients live through the hard times, and comfort them when it is needed.
Essential Therapy Pet accessories
Unfortunately, we do not have accessories designed specifically for therapy animals, but you have every right to use accessories from the marking of an emotional support animal.
Take your assistance animal's recognition to the next level and avoid unwanted attention with our range of ESA accessories. With our accessories, you can also increase control over your pet in public spaces, making outings less stressful for both you and your furry companion. Browse our shop for a variety of accessories for your assistant pet:
Description Last update:
September 9, 2023