Accessories for service animals are very important for those who don't want to be disturbed in public places by people unaware of the main tasks of service dogs. They demonstrate your status and tell others that you are allowed to bring the pet everywhere you go because of certain health issues that don't have to be explained to strangers.
In the case when you do not want to put a service animal vest on your pet for a short walk, such a service dog collar is an ideal solution.
Basic collar characteristics you should know
Before placing an order, we recommend measuring your dog to make sure the collar you choose for them is comfortable and not too tight. If you are unsure how to do it correctly, get in touch with one of our managers; they can guide you through this process.
The following sizes are available on our website:
S: (10-16″) x 3/4″
M: (14-20″) x 1″
L: (16-24″) x 1″
This product varies based on the breed of the dog, its size, as well as aesthetic preferences of the pet owner. If you didn't find the collar you wanted, contact us so that we can pick the best variant for you.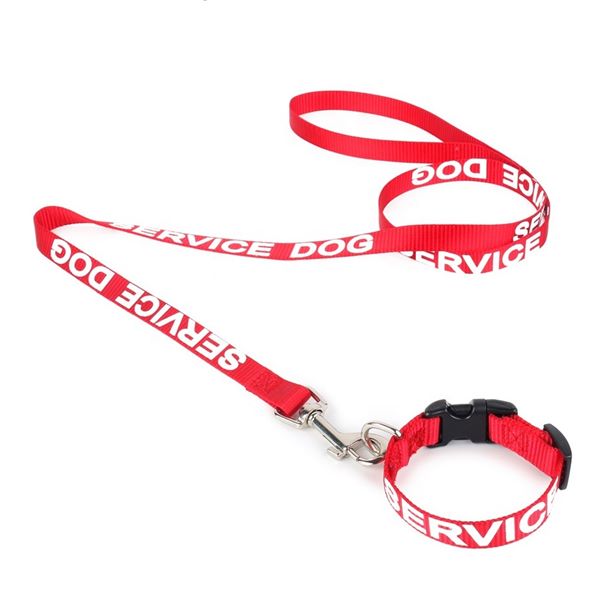 Please note that the service dog collar and leash demonstrated in the photo and leash is not included in the price; however, you may buy it separately here – Service Dog Leash.
Why are a service dog collar and other accessories important for a Service Dog?
The most complicated thing about being a service dog owner is to explain to people around you that your animal is not just a pet; it's a working dog that plays a certain role in an individual's life. That's why a dog shouldn't be disturbed, petted, or involved in any other interactions with strangers or other animals. Using specially designed accessories lets people know it's not allowed to bother either of you.
Not to mention that using special accessories helps to spread awareness among those who are unaware of the service animals' primary tasks, as well as what role they play in the lives of disabled individuals. Some people have never seen a service dog in public, so they simply don't know the difference between a regular pet and a service animal. So, if it doesn't bother you, it would be useful to answer some questions and explain to others what a service animal can do for those with disabilities. However, if this topic causes discomfort, you don't owe an explanation to anyone.
And of course, don't forget that the information about your dog is always indicated on the tag attached to the collar, so in case the pet is missing, it will be easier to get in touch with you as an owner. So, don't underestimate the importance of those little things.
A service dog collar is a special collar worn by service dogs that is designed to indicate that the dog is a trained and certified service dog. Having a service dog collar for your dog can be beneficial for several reasons:
Identification: A service dog collar clearly identifies the dog as a service dog, which can prevent confusion or misunderstandings in public spaces. This can help ensure that the dog and its handler are treated with the respect and accommodations they are entitled to under the Americans with Disabilities Act (ADA).
Professionalism: A service dog collar can enhance the professional image of the service dog and its handler, and can be helpful in situations where the handler may need to prove that the dog is a service dog.
Safety: A service dog collar can help ensure the safety of the dog by making it more visible to emergency responders or other officials in the event of an emergency or natural disaster.
Access: A service dog collar can help ensure that the dog and its handler have access to public spaces, businesses, and transportation that are typically off-limits to pets.
Peace of mind: Having a service dog collar can provide peace of mind for the handler, knowing that their dog is clearly identified as a service dog and that it is protected under the law.
Register your pet at My Service Animal in a few simple steps!
At My Service Animal, collars of various types are available for purchase. They differ based on the dog's breed, size, color preferences, and some other aspects. Along with it, you may also buy a leash, service dog tags, vests, and other useful accessories. Fast and easy online service dog registration is also available on this website (a registration certificate may be sent to you via email in PDF format; a certificate can also be sent to your address along with other items included in the order).
In order to purchase any accessories for your service dog on our website, you should register them first. We don't sell goods for regular pets; all items here are meant only for support animals (service dogs, ESAs, therapy animals, and others).
After registration at My Service Animal, your dog will be automatically added to our database; thus, its status as a service animal can be officially proved. When this process is finished, it is possible to add other products to the cart: an ADA Dog ID card, a service animal tag, an ADA leash, ADA Vest, an ADA certificate, and other items.
In case there are any questions about our products, company policy, ordering conditions, or other aspects connected with our work, you can get in touch with one of our managers to discuss all the nuances.