A Service Dog Collar is a specialized accessory designed for service dogs to aid in their identification and ensure their safety. It is made from durable materials and is adjustable to fit different sizes of service dogs.
Service Dog Collar Characteristics
The Service Dog Collar is designed with specific features to meet the unique needs of service dogs and their handlers. All sizes of collars are adjustable.
Small (S): Adjustable length ranging from 10″ to 16″ with a collar width of 3/4″.
Medium (M): Fits neck sizes between 14″ and 20″ with a collar width of 1″.
Large (L): Designed for neck sizes ranging from 16″ to 24″ with a collar width of 1″.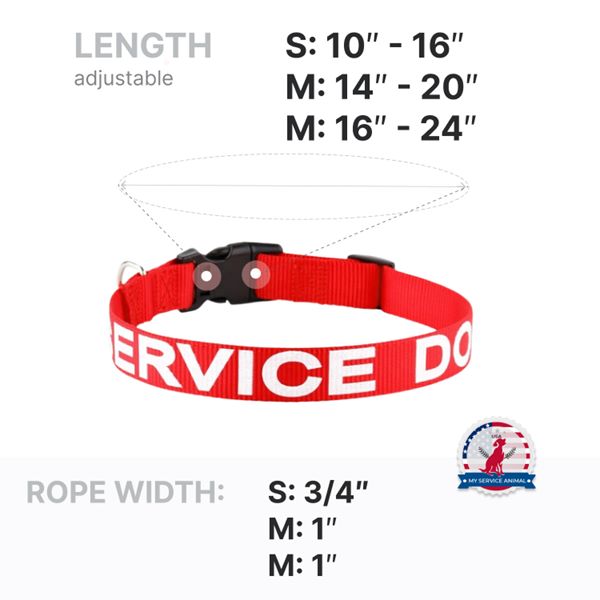 Overall, the Service Dog Collar is a purpose-built accessory that prioritizes the comfort, safety, and clear identification of service dogs, assisting them in their important roles as assistance animals.
To make sure the collar is not too tight, measure the girth of your pet's neck before choosing the size. As a dog will wear it all the time, it must be comfortable. If you have trouble finding the right option, contact us so that we will pick the best variant for you.
Key Benefits of a Service Dog Collar
Identification: The collar helps to clearly identify the dog as a service dog, distinguishing it from pets and other animals.
Access: It helps service dogs gain access to public places, as it serves as a visual indicator of the dog's working status.
Safety: service dog collar is designed with safety in mind, with features such as reflective strips or patches that enhance visibility, especially in low-light conditions.
Comfort: The collar is typically made from high-quality materials that prioritize the comfort of the dog, allowing it to wear the collar for extended periods without discomfort.
Durability: ADA collars are built to withstand the demands of daily use, ensuring they remain in good condition even with frequent wear and tear.
Professional Appearance: it contributes to the professional appearance of the service dog and its handler, projecting an image of professionalism and reliability.
By incorporating these key benefits, a Service Dog Collar serves as an essential accessory for service dogs, enhancing their effectiveness and promoting their important role in assisting individuals with disabilities.
The Importance of the Accessories for ADA Collar
One of the key benefits of ADA collars and accessories is improved identification. By wearing a specific collar or accessory, service dogs are easily identified as working animals, ensuring that they receive the necessary accommodations and access to public places as mandated by the Americans with Disabilities Act (ADA). ADA accessories help in reducing misunderstandings and potential conflicts. By clearly displaying the dog's role, they minimize instances where the dog may be mistaken as a pet or face unwarranted interference. This can lead to smoother interactions in public settings, allowing the service dog to perform its duties without unnecessary interruptions. ADA collars play a vital role in ensuring the recognition, effectiveness, and accessibility of service dogs. They help create a supportive environment for individuals with disabilities, enabling them to navigate public spaces with confidence and ease.
Service Dog Additional Accessories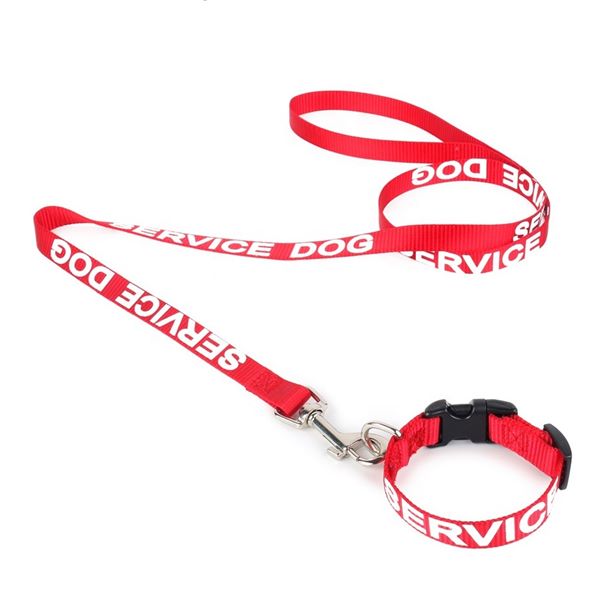 At MyServiceAnimal, we offer additional accessories for your Service Dog besides the bandana. You can register your Service Dog ID Tag through our database, which serves as proof of their status and can be shown to anyone who doubts their legitimacy. Additionally, we provide the necessary documentation to ensure convenience and peace of mind for you and your Service Dog.
Take your assistance animal recognition to the next level and avoid unwanted attention with our range of ADA accessories. With our accessories, you can also increase control over your pet in public spaces, making outings less stressful for both you and your furry companion. Browse our shop for a variety of accessories for your assistant pet:
Displaying your pet's ADA status in public raises awareness and ensures you and your animal are not disturbed. It also helps avoid uncomfortable situations in establishments by making it clear that you and your pet must not be separated or denied entry.
Description Last update:
November 25, 2023