After getting a service dog, people may notice numerous changes in the lives they used to. A dog is already a responsibility, and with service dogs, it may be even more complicated sometimes. Starting with, of course, getting special accessories to demonstrate to people around that your four-leg companion is on duty and shouldn't be bothered (and so do you). That's why we decided to dedicate today's article to the most helpful service dog supplies that every pet owner will need for the best experience with their furry friend.
Kind reminder: Everything mentioned in this article is available at My Service Animal, so make sure to check them out after finishing reading. It's important for us to provide our customers with the best experience; contact us if any questions occur afterward.      
What Supplies Do I Need for a New Service Dog? Top-5 Accessories
For people who have never heard about service animals and are new in this sphere, it can be overwhelming to get to know all the nuances of living with them, visiting public or working places, interacting with others, and so on. It can also be hard to understand how to show others your special status without constantly bringing up past traumas or certain health issues. For this case, we have the answer here – a service dog supplies list. By using any of the accessories mentioned below, you will be able to avoid uncomfortable conversions in public and easily walk around wherever you need with your pet. Let's have a closer look:
---
Service dog harness. This harness is made out of a material with special reflectors so that a pet owner can walk around safely, even in the dark. It's meant to alert people about the status of a person, as well as the dog's duties they have to perform (it varies from alerting about blood sugar drops to helping through seizures). The product usually comes in various colors and sizes, and it is possible to choose the most suitable option for any dog breed. Usually, handlers buy them together with service dog ID, tags, and leashes;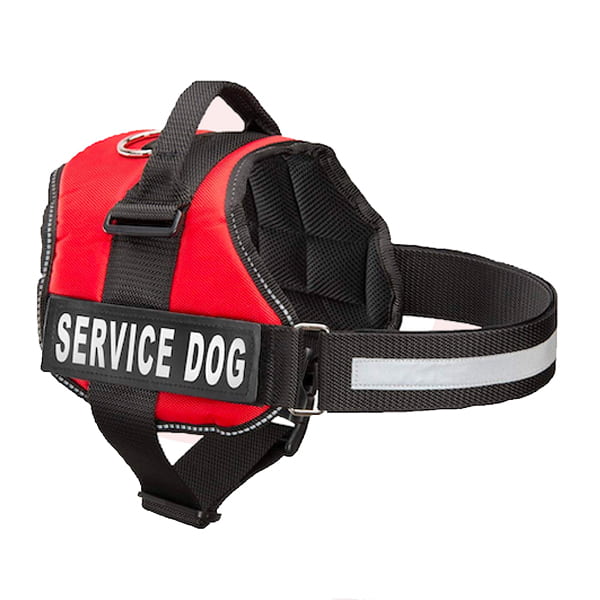 ---
Service dog collar. Just like a service dog vest, collars are available in various colors and sizes; the most popular one is red because it's bright, and people pay attention to it as soon as they notice a person with a disability. It's important to choose the right size for the pet because if it is too small, it can be hard for them to breathe and swallow. Normally, two fingers should easily fit under the collar when it's on the dog;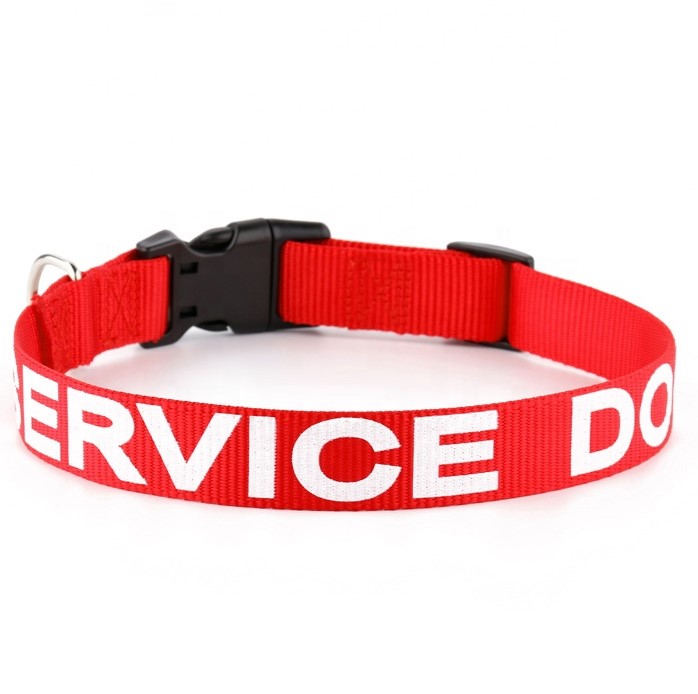 ---
Service dog leash. Often underestimated, this accessory is one more item that instantly catches the eye of those around a service dog handler. The best leash for a service dog should match the collar and be noticeable from afar (often, the phrase "service dog" is written on it in big letters). At My Service Animal, we provide leashes made of a thick material available in different colors (please note collars and leashes are usually purchased separately);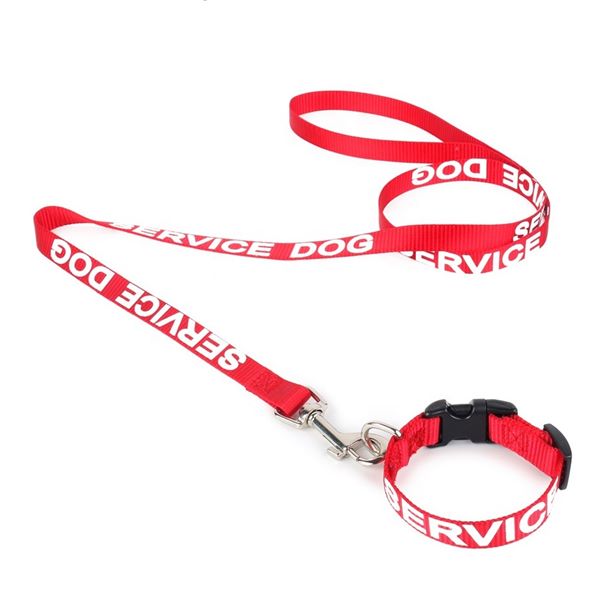 ---
Service dog collar tag. This small metal item is essential and should be bought by any pet owner, not only a service dog handler.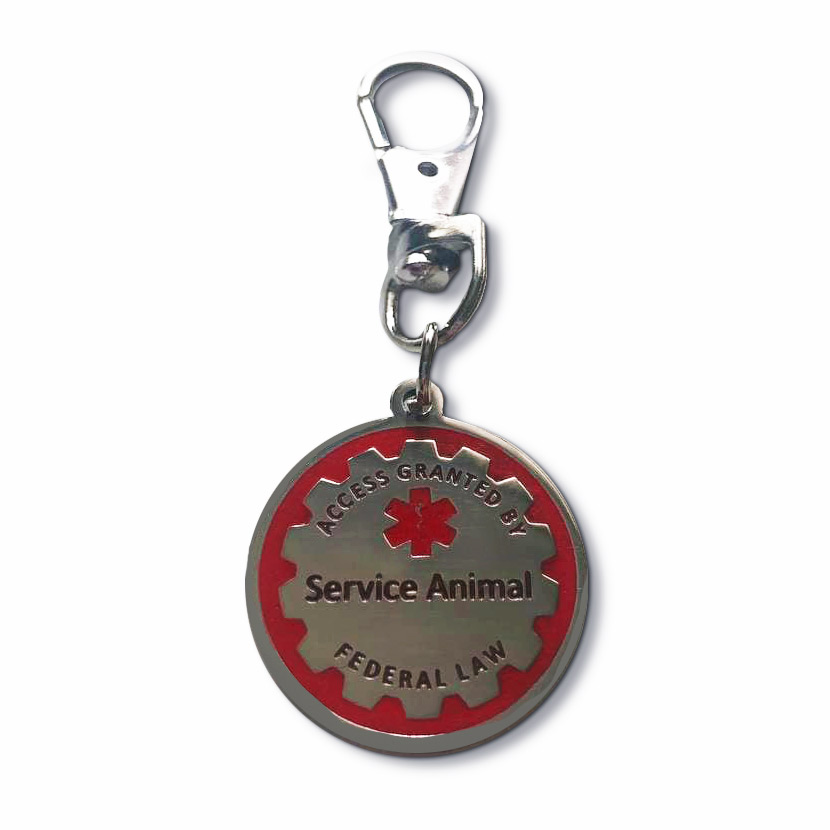 ---
Service dog bandana. The last item we want to discuss is optional and is not demanded to be worn while in public. It is mainly preferred by dog owners to avoid unwanted attention from people around. "Service dog" in big white letters informs everyone around that a dog is allowed everywhere with their handler, cannot be patted or talked to, and shouldn't be the reason for an argument between an employee in the establishment and a disabled person.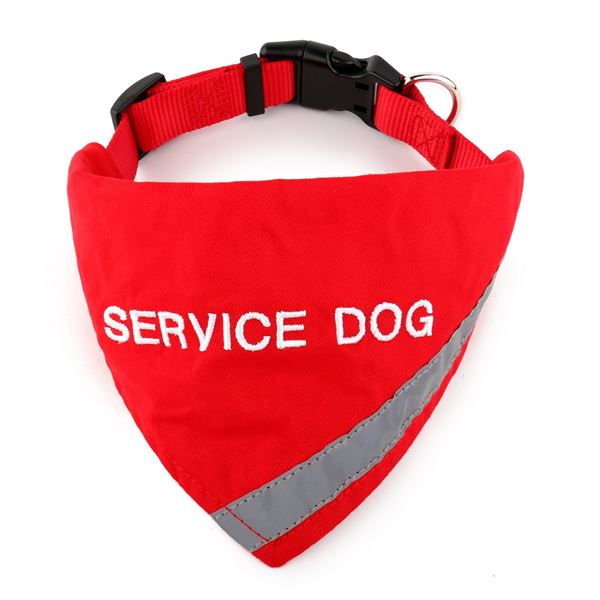 ---
If you want to buy any of these but don't know where or how to do it, just visit the My Service Animal website. Here, we are always ready to help you register, get the ID card, and get everything you need for your four-legged friend! Of course, you shouldn't buy everything from the list; just think about what would suit and guarantee maximum comfort and safety levels for you and the dog. You can find more information about the 3 steps to register your service dog in our blog article.
Note: Any accessories mentioned above can be purchased without a letter of recommendation from a doctor, so you may even buy them for a regular pet – just indicate that during the ordering process.
Let's remember which Animals Can Be Called "Service Animals"? 
Service animals – a particular type of dog trained specifically for the needs of a disabled person. Different breeds can be taught to perform various tasks needed for an individual's everyday life, as well as help to deal with the problems related to their health issues.
Sometimes, miniature ponies can perform the tasks of the service animal, too. They are incredibly intelligent and can be easily trained to help a person with a disability.
There are many types of service animals, and all of them are different based on the kind of work they are expected to do for their handler. Here are a few examples of what help they can provide:
Guiding people with visual impairments;
Alerting people with hearing problems and helping them around;
Reminding people with various diseases to take their medicines at a certain time (they usually bring pills to the handler along with a bottle of water);
Helping individuals in a wheelchair with various daily tasks;
Warning people about seizures, as well as keeping them safe during one;
Assisting those with Post Traumatic Stress Disorder (PTSD) and calming them down during the anxiety attack;
And many others.
Dogs can also provide emotional support, but this is a separate type of animal assistant called an Emotional Support Animal (ESA). Any animal can be an ESA, as their main task is to provide comfort and the feeling of security to a pet handler during tough times. In order to get one, you will need a letter of recommendation from your therapist; it is also required to use certain benefits available only to emotional support dogs and their owners.
How to Pick the Right Harness/Vest Size for My Dog?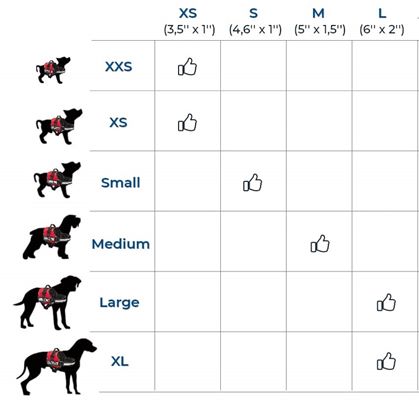 When it comes to service dog vests and accessories, it is essential to pick the right size to ensure your little helper will feel comfortable wearing them, as those are typically on most of the time when you are in public. On our website, these items are available in various colors and sizes (based on the dog's breed), so you can choose one according to your personal preferences: service dog vests large, medium, and small (plus, sizes XL and XS are also available).
In order to know the size, you'll only need a measuring tape. Provide these  measurements when placing your order:
Girth size (two fingers must fit between it and the dog's body; if not, it can be too uncomfortable to wear and even cause breathing problems);
Around their middle (if you choose a full-body vest);
Height (from paws to the tip of their head).
We can also request other measurements, so please keep in touch with our managers when buying anything at My Service Animal. Mind that dogs can grow up and gain weight; as follows, the size can change over time; just check whether the vest fits once every few months to make sure your pet feels cozy and comfortable.
Where Do I Buy Service Dog Vests/Supplies?
Service vests for dogs are not required by law but are highly recommended for people who don't want to explain why they always bring their pets everywhere. It's also a great way to avoid unwanted social interactions with strangers or kids who don't have the ability to respect others' boundaries and constantly try to pet the animal, talk to it, or interact in any other way.
That's actually the reason why My Service Animal was founded in the first place. We understand the everyday struggles of people with disabilities and want to help make them as easy as possible. So, on our website, you can purchase plenty of items and services:
Online registration of a service animal (with or without an ID card and laminated certificate, it's your call!);
Accessories for service animals (different types of service dog vests, leashes, collars, service dog ID tags, etc.);
The assistance of any kind during the ordering process.
We work fast and efficiently to provide the best customer experience to our clients and help them find the solution to their problems as quickly as possible. After placing the order, our managers can contact you to confirm it, as well as clarify certain details about you and your pet (such as the dog's breed, size, etc.). Afterward, we proceed with the order within 24 hours and send it the next. The delivery usually takes up to 5 business days, but it mainly depends on how fast the post office works.
As you can see, the process is not that complicated, so hurry up, place your order, and start your journey with My Service Animal today!
To Sum Up: Buy Accessories for Service Dogs at My Service Animal Today!
Regular and reflective service dog accessories are crucial for people with disabilities to make their routine with a pet easier (especially when it comes to getting used to having them close to you all the time). We understand this and are ready to help everyone to order everything needed quickly and without putting too much effort into it, not to mention that My Service Animal offers affordable prices for products of the most admirable quality!
Hopefully, this article answers all your questions about essential accessories for service animals. If not, feel free to get in touch with our customer support managers, and we will gladly explain all the nuances of the ordering process to you. Hope you'll have the loveliest day. Stay safe!