An Emotional Support Animal Bandana is a cloth worn around a dog's neck, made of soft and breathable fabric. It is designed to be comfortable for the dog while also conveying a message to others that the dog is providing emotional support to their handler.
ESA Bandana Characteristics
Emotional Support Animal bandanas are special accessories designed to make life easier for ESA handlers. These bandanas are particularly useful in public places where pets are not allowed, as they make it easier to demonstrate the need for the ESA's presence without having to answer numerous uncomfortable questions. Additionally, ESA bandanas can be used for small animals like cats, raccoons, mini pigs, and other small pets. Please find the available bandana chart below: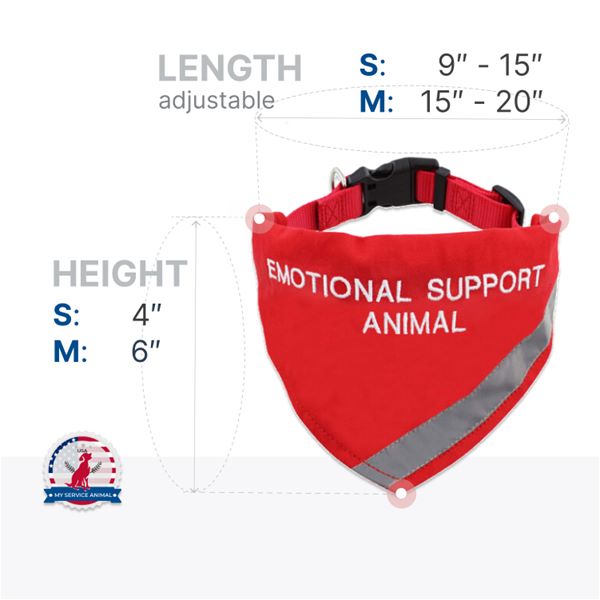 To make sure the collar is not too tight, measure the girth of your pet's neck before choosing the size. As a dog or cat will wear it all the time, it must be comfortable. If you have trouble finding the right option, contact us so that we will pick the best variant for you.
Main ESA Bandana features
High-quality soft cotton material
With reflective strip to keep your pet safe at nighttime
The built-in adjustable collar keeps your pet comfortable and the bandana secure
A ring is provided on the collar to fast attach the leash
This support animal bandana collar is pure nylon solid vibrant color
Benefits of using a support dog bandana with a built-in collar:
Improved identification: An ESA animal bandana with a built-in collar can help identify the animal as a helper animal, which can be helpful in situations where the animal's role may not be immediately obvious.
Enhanced recognition: ESA bandana can help ensure that the animal is recognized as a support animal by landlords, airlines, and other entities that are required to accommodate service animals.
Reduced misunderstandings: A helper animal bandana with a built-in collar can help reduce misunderstandings and potential confrontations by making it clear that the animal is an ESA and is protected under relevant laws and regulations.
Improved access: A bandana with can help individuals with a helper animal gain access to housing and transportation options that may be restricted to pets.
Enhanced peace of mind: An ESA bandana can provide a sense of security and peace of mind by ensuring that the animal is properly identified and protected under relevant laws and regulations.
Enhanced training: A helper animal bandana with a built-in collar can be an effective tool for training and reinforcing good behavior in a helper animal.
Convenience: A helper animal bandana can be a convenient and stylish way to identify and manage a helper animal, as it combines the functionality of a collar with the visual appeal of a bandana.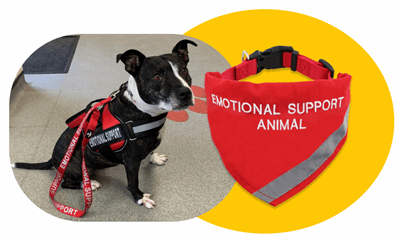 The Importance of the Accessories for Emotional Support Animals
Being asked about an ESA in public places is not an unusual thing for their handlers; a lot of people out there are confused about why a dog is allowed in pet-free establishments or their bright accessories. That's why you may expect many questions as an ESA owner.
In order to avoid these uncomfortable situations and the anger of uneducated employees in public places, many emotional support dog owners prefer buying special vests and collars that demonstrate the dog's status. It is also a great sign that they shouldn't be disturbed as the animal is working now and should concentrate on its main tasks. Of course, there is nothing wrong in asking questions about the ESA's tasks and other related aspects, but it should be done politely and after consent from a person who needs such services. If questions are rude or too personal, there is no need to go out of your comfort zone and share too many details.
Emotional Support Animal Additional Accessories
At MyServiceAnimal you can register Emotional Support Animals online through our database, which serves as proof of their status and can be shown to anyone who doubts their legitimacy. Additionally, we provide the necessary documentation to ensure convenience and peace of mind for you and your assistant pet.
Take your assistance animal recognition to the next level and avoid unwanted attention with our range of ADA accessories. With our accessories, you can also increase control over your pet in public spaces, making outings less stressful for both you and your furry companion. Browse our shop for a variety of accessories for your assistant pet:
Displaying your ESA pet's special status in public raises awareness and ensures you and your animal are not disturbed. It also helps avoid uncomfortable situations in establishments by making it clear that you and your pet must not be separated or denied entry.
Description Last update:
September 26, 2023