Psychiatric Service animal database registration involves adding a service animal to a recognized database, providing easy accessibility for recognition of the animal as an assistant animal. This registration can be used to demonstrate the animal's status and training in situations where its presence is questioned or denied. With lifetime validity, the registration includes all relevant information about the animal and can be accessed conveniently from a phone.
Our Psychiatric Service Dog Database Registration is an online registration service that provides on-page verification for your service dog.

Please note that it is not a physical product. If you require, you can order a physical Psychiatric Service Dog Registration with an ID card.
What does Psychiatric Service Dog database registration look like?
After successfully database registering your assistant animal, you will have a unique registration number in the MSA format -0000001. You can conveniently access and view the digital ID using only the registration number on our website at id-confirmation page. This ensures easy verification and added convenience for both you and others who may need to confirm your pet's assistant status. Please find the PSD digital ID sample below.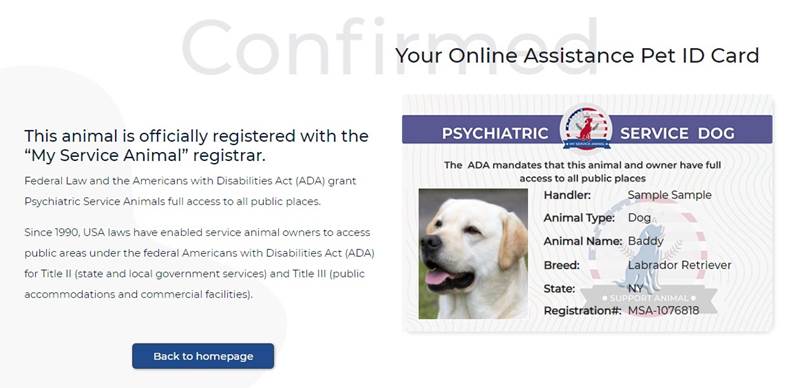 Registration can be completed online only.  If you have a valid registration with MyServiceAnimal you can always reorder a physical ID card here, and you don't need to order a bundle with registration plus an ID card. Thus, if you need to urgently and cheaply register your animal, it is very convenient to take registration in the database, and then, if necessary, you can also buy a physical ID and other documents or accessories.
What benefits will you enjoy after registering your pet in a PSD database?
Legal rights to live in "no pets" policy housing;
Hassle-free air travel;
Greater public recognition;
Ability to travel with your service dog in the cabin;
Lifetime validity of ADA database registration.
How to register in a PSD database
Every psychiatric service dog is trained to perform tasks related to their handler's disability. The number of specific tasks is almost countless, but here are the main duties of a psychiatric service dog:
Supporting the person in everyday routine. Pets help to live a full life for the person with a mental disability. It doesn't let a person oversleep, forget about food, or stay inactive for a long time. The dog makes sure their owners doing their best every day;
Remind to take medicines. If the handler needs to take pills daily, the dog can remind them about it. It can be done in many ways: pawing, bringing the bottle directly to the person, or barking;
Danger alert. Dogs can warn their handlers about strangers, suspicious sounds or smells, upcoming panic attacks, etc.;
Guiding job. Sometimes, people who take specific medications for depression, anxiety, and other mental problems can become disoriented and even get lost easily. That's where a PSD is very helpful. They are able to walk the person to a safe place (in case there is any potential danger), find their relatives or close friends, or even help to find their own house;
Balance keepers. Some psychiatric disabilities that substantially limit one or more major life activities in a person may be treated only with serious tranquilizers, so they do not feel very confident while walking. A PSD can assist their handlers in this situation as well;
PSD can stop obsessive-compulsive behavior and assist them in staying present in this reality. If the dog owner starts to zone out or do something harmful, a dog's main task is to stop it and distract them from the activity.
In order to get a service dog (a psychiatric service dog), the person has to have one of the following disabilities:
Post-traumatic stress disorder (PTSD);
Anxiety;
Depression;
Any learning disabilities;
Frequent panic attacks;
Bipolar disorder;
Different types of phobias;
Attention deficit and hyperactivity disorders;
OCD (Obsessive Compulsive Disorder);
Autism.
All psychiatric service dogs have to finish a special dog training program in order to help their owners who need assistance in completing tasks for their daily routine. If people do not need physical help, the chances are they just require an emotional support animal (ESA) for moral support. In this case, a therapist should write a special recommendation letter that claims a person requires this type of help.
How psychiatric service dog differs from an ESA?
A lot of people often confuse a registered emotional support dog and a psychiatric service dog, and it is pretty understandable. Both types of animals support people with a mental illness; however, when ESA does not do anything for their handlers (they are just supporting and play the role of moral help), PSD is individually trained to perform tasks in order to assist people with psychiatric issues. They can be trained to help the owner to perform daily tasks they can struggle with, remind them to take medications, etc.
3 Easy steps of MyServiceAnimal's ADA database registration:
Provide the required information about the owner (you can choose up to 2 handlers) and pet information: name, type, and breed.
Optionally, attach an animal photo. We recommend taking the photo at your pet's height. If you have difficulty with this step, you can email the photo to us after placing your order.
Fill out the form and proceed with payment using a Debit/Credit card or PayPal. Afterward, you'll receive a link to your pet's digital card.
We suggest saving your pet verification page in your bookmarks. Congratulations, your service animal is now registered! If you need further assistance, our managers are always available to ensure the best customer experience.
What are ADA Doctor's letters and what should they contain?
A doctor's letter is a written recommendation from a licensed therapist or mental health professional, confirming that you require a service dog or service mini horse due to mental health concerns. This letter is necessary when traveling with your animal, living in rented housing (in accordance with the Fair Housing Act), and registering or obtaining an ID card or ADA certificate.
A Service Dog letter should include the following elements:
It must be written on the letterhead of a licensed mental health professional.
The letter should confirm that you have a disability and require a service animal.
It should include a recommendation for an ADA dog to help manage the symptoms of your mental illness or challenges.
The mental health professional's license number must be included.
The ADA prescription letter should contain the doctor's signature and the date.
Why is a digital database ID more convenient than carrying a doctor's letter?
Clear identification: The database registration digital ID readily identifies your pet as a service dog, offering clarity in situations where the animal's role might not be immediately apparent.
Increased recognition: An registered database status ensures landlords and other relevant parties acknowledge your animal's status, helping to secure accommodations required by law.
Minimized misunderstandings: it can mitigate potential confrontations by clearly indicating your pet's status and its protection under applicable laws and regulations.
Expanded accessibility: it assists in gaining access to housing and transportation options that might otherwise impose restrictions on pets.
Greater peace of mind: digital ID offers reassurance and confidence, knowing your service animal is properly identified and safeguarded by relevant legal protections.
Essential PSD database registration bundle
As a subspecies of service dogs, psychiatric service dogs have the same rights to use service dog accessories and paperwork.
In most cases, a doctor's letter of recommendation is sufficient for registering your pet as an ADA, but in certain situations such as requesting housing accommodations, additional documentation may be required:
ADA Certificate – A non-mandatory document verifying that a qualified mental health professional prescribed the animal as an ADA.
Housing Reasonable Accommodation Request – A letter to your landlord explaining your need for a cost-free accommodation for your support animal in your residence.
Take your assistance animal's recognition to the next level and avoid unwanted attention with our range of ADA accessories. With our accessories, you can also increase control over your pet in public spaces, making outings less stressful for both you and your furry companion. Browse our shop for a variety of accessories for your assistant pet:
Displaying your pet's ADA status in public raises awareness and ensures you and your animal are not disturbed. It also helps avoid uncomfortable situations in establishments by making it clear that you and your pet must not be separated or denied entry.
If you want to register with a complete set of all available documents and accessories for your dog, consider our cost-effective Full Kit ADA Registration Bundle.
Description Last update:
September 9, 2023