Legitimate Emotional Support Animal Registration
An emotional support animal (ESA) is a loyal companion for those who need moral support due to various mental issues. The issues include depression, anxiety, different phobias and fears, relationship problems, etc. This type of animal is not the same as service dog registration and does not have to complete special training to become an ESA. The only requirement which should be done is ESA registration, which is very quick and not at all complicated.
The other thing that differs is that any type of pets can be the moral support for the owner. The most common are dogs, cats, rabbits, guinea pigs, horses, miniature pigs, goats, bearded dragons, etc. They don't have to be trained for a person's disability; however, such skills as calming down a person's anxiety attacks, cheering up during depressive episodes, and protecting them during bad mental health moments are necessary. Some pets may also warn about the symptoms of upcoming panic attacks. The handler can train the pet by themselves.
Every emotional support animal has to be registered to make its status official, as well as get all benefits followed by that. To do that, an ESA letter is required.
What is an ESA letter and what it should contain?
An ESA letter is a recommendation written by a licensed professional therapist or other mental health professionals. It proves that you are licensed for an emotional support dog or animal due to mental health issues. It is required when you are traveling with your pet, living in rented housing (due to the Fair Housing Act), etc. Likewise, it is also needed for registration or getting the ID card, ESA certificate, or other helpful ESA accessories.
How an emotional support animal letter should look like, and what information should it include?
It should be written on your doctor's letterhead (licensed mental health professional);
It should confirm you have a disability and require emotional support;
A recommendation to get a companion animal to deal with the symptoms of your mental illness/problems;
It should include the license number of the mental health professional;
Contain the signature of the doctor and the date.
If you are not sure you are qualified, you should consult with a professional. They may recommend you qualify your pet for the support animal or adopt it if you do not have one.
Who can qualify for ESA?
First of all, we would like to clarify one moment – any pet can be a companion animal; their main task is to provide comfort to the owner, so there is no need for any special training. Online ESA registration can be performed in spite of whether it's for a lizard, cat, or dog. Therefore your pet can get the Emotional Support Dog or Emotional Support Cat status and ID card.
Companionship and moral support can be provided to a person with the following mental issues:
Depression and anxiety;
Certain learning disabilities;
Chronic stress;
Attention deficit disorders;
Post-traumatic stress disorder (PTSD);
And so on.
In order to be able to complete online ESA registration and get an ESA ID card, it is necessary to have a letter of recommendation from a doctor with the diagnosis indicated in it.
Don't forget that, without confirming the status of the pet, it won't be possible to use all available benefits given, so don't hesitate and complete this process in a few simple steps. And My Service Animal will always be on your side to assist whenever you need it. All details about the ESA registration process on our website are indicated below, so make sure to get familiar with them!
Does my pet qualify?
Any animal or breed can qualify as an emotional support animal as long as it helps support an emotional condition and meets guidelines for legal emotional support animals to have. Please note that if you have an exotic animal you should verify with the appropriate authorities such as Fish and Wildlife that your animal may be legally kept in a home.
Can cats and other animals be Emotional Support Animals?
The primary purpose of an ESA is to provide comfort and moral support to its owner; thus, it doesn't matter what type or breed of animal a person chooses as their emotional support pet. ESA Cats, dogs, mini-pigs, and even lizards – anything can be your support animal. However, you cannot use cats as service animals; for this role, only dogs and sometimes miniature horses are suitable.
What benefits will you get after registering your pet as an Emotional Support Animal?
The ESA status brings various benefits both for the handler and the pet itself. What are those benefits?
It is legal to live with your animal in "no pets" policy housing. According to the federal Fair Housing Act, people with support animals may live in any type of housing. It includes rentals, hotels, condos, hostels, etc. Landlords are not allowed to charge extra because you live with a pet; they also can't refuse to place you in the housing. The landlord can't ask the handler uncomfortable questions about their health issues; all they can do is to ask you to show a submitted doctor's letter or a certificate of registration;
Participating in airlines will make it possible to travel without an additional fee for your emotional support animal. It is required to submit the ESA letter and fill in forms the airline may need 48 hours before flying. Your support animal must be well-behaved and sit near you during the whole flight;
People's recognition. By registering your pet, you give it a status of a legitimate ESA animal. That means people should have fewer questions when they see you with it, they understand your condition and won't bother you on the street. The law is also on your side, so, as you can see, the list of positive sides is pretty long.
Why is an ID card more convenient than carrying a doctor's letter?
Improved identification: An emotional support pet ID card can help identify the animal as an ESA, which can be helpful in situations where the animal's role may not be immediately obvious.
Enhanced recognition: An emotional support pet ID card can help ensure that the animal is recognized as an ESA by landlords and other entities that are required to accommodate service animals.
Reduced misunderstandings: An emotional support pet ID card can help reduce misunderstandings and potential confrontations by making it clear that the animal is an ESA and is protected under relevant laws and regulations.
Improved access: An emotional support pet ID card can help individuals with an ESA gain access to housing and transportation options that may be restricted to pets.
Enhanced peace of mind: An emotional support pet ID card can provide a sense of security and peace of mind by ensuring that the animal is properly identified and protected under relevant laws and regulations.
After registration, your ESA will be included in our database, and you'll be able to prove its status quickly and without any problems. You may also buy various accessories for your pet, such as an ESA harness, dog ID, a tag, or get a certificate of official registration.
By the way, please note that the free emotional support dog registry does not exist. Also is important that you can't legally buy an ESA doctor's letter online, such sites are most likely a scam.
How to register an ESA at My Service Animal?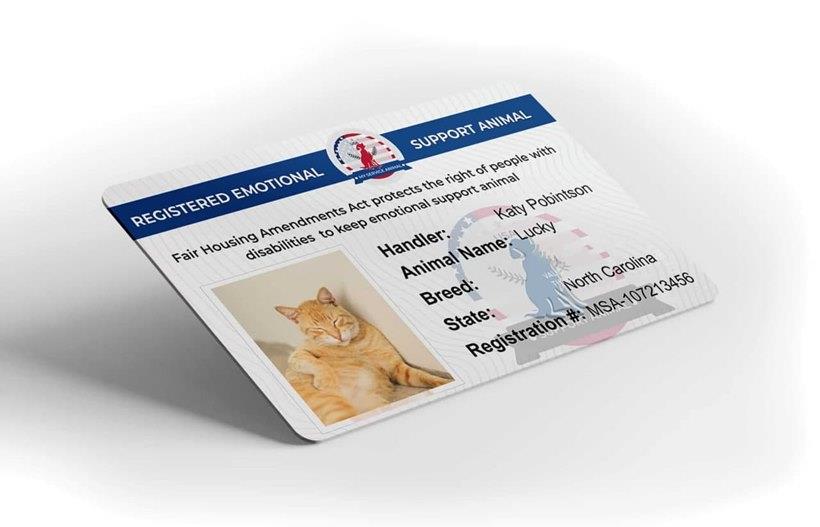 Offline registration is a process that can demand a lot of time and effort from a person, not to mention all the stress that can sometimes be challenging to cope with. We understand that not everyone can do it on their own as well as that help can be required sometimes; that's why My Service Animal offers you our assistance with this procedure. Moreover, we are ready to provide you with an ESA ID card to be able to confirm your pet's status at any time.
The whole process can be completed in a few simple steps, namely:
Get a letter of recommendation from your therapist (it should include a handler's diagnosis that proves the need for emotional support);
Fill in all required information about the animal on our website (type, breed, size, age, and optionally pet photo);
Complete and send the registration form on our website.
That's pretty much it; you did a great job, and your comfort pet is registered now! And if you still need assistance, no worries – our managers are always here for you to guarantee the best customer experience.
Check out a great variety of products in our shop in case you would like to purchase other ESA accessories for the pet, such as vests, leashes, harnesses, tags, and other items. We believe it is crucial to demonstrate the status of an emotional support animal in public in order to spread awareness about this topic, as well as to demonstrate that you and your dog shouldn't be disturbed. Moreover, those often help to avoid uncomfortable situations in different establishments because employees know immediately that you and the pet cannot be separated or not allowed into the building.
Is supporting pets legitimate?
There are specially designed laws that can protect ESAs in certain situations. The Fair Housing Authority (FHA) and Air Carriers Access Act (ACAA) protect emotional support animals. The Fair Housing Act (FHA, Section 504) – a federal law initiated as Title VIII of the Civil Rights Act of 1968. Its primary purpose is to protect people from discrimination when they buy or rent a house, seek housing assistance, or participate in other house-related activities.
The owners of an Emotional Support Animal are protected by this law as well; they can get assistance from the authorities if any problems followed by discrimination against those with disabilities caused by the animal's presence occur.
Are there laws that protect Service Dogs and Emotional Support Animals?
The Americans with Disabilities Act protects service dogs. Regarding the law, service dogs are not restricted as much as comfort animals. Whereas, support pets are required to follow all the pet policies in all locations, except in one's permanent residence.