Getting an emotional support dog can be followed by certain challenges along the process – starting from a therapist's confirmation of one's need to have an ESA and ending with getting all the accessories to be recognized in public and avoiding problems caused by people's ignorance of the topic. That's why we believe it's essential to learn more about the subject in advance to ensure all nuances are considered and there won't be any unnecessary anxiety because of the new experience. In today's blog post, our team is going to cover the topic of accessories for ESAs (mainly harness for an emotional support dog), their variations, sizing, and ways to buy them online to use daily.
All the products will be linked in the article, so you can have a closer look at anything that catches your eye within just one click. Contact My Service Animal if you have questions about the assortment, price, or other aspects of our work.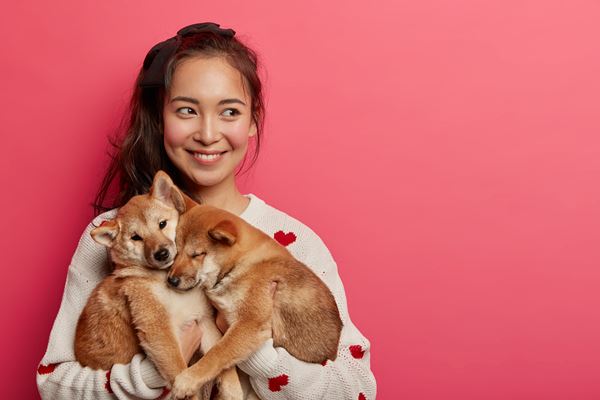 Do I Qualify for an Emotional Support Animal?
Before deciding on getting an emotional support dog to improve one's mental health, it's essential to make sure one qualifies for an ESA owner. The thing is, all types of animals for emotional support should be registered to get an official status to use all the benefits given by the authorities. It can only be done after receiving a recommendation from a qualified, experienced doctor. This ESA doctor's letter must prove that an individual indeed requires the assistance of a dog (or any other animal) to maintain better mental health and deal with certain emotional problems easily.
What are the mental issues that count to make someone qualified for an emotional support dog? To know for sure, it's better to talk about one's conditions with a specialist, but if a person suffers from depression, PTSD, anxiety, frequent panic attacks, and other mental issues, the chances are they will be qualified for an ES animal.
Any animal may be an ESA, as their main task is to guarantee comfort and support during tough times for their owner, not helping them with certain daily activities. If a person needs assistance with certain tasks in their routine, they should think about getting a specially trained service dog. If emotional support is a priority, various pets can do this: dogs, cats, guinea pigs, rabbits, and even lizards.
Only a licensed, well-educated mental health practitioner can evaluate a patient current health condition and decide whether they need an ESA to feel better. Afterward, they will write a letter of recommendation that should be added to one's application form for an emotional support animal handler. A specialist should always be in touch to ensure a person has all the support during the process; sometimes, verbal confirmation from them is required as well, so a doctor's preferred contact details (like phone number or email) should also be added to the document.
ESA registration can be performed online. My Service Animal offers fast online registration, so get in touch with our team in case you have questions about this process or want to fill in an application on our website.
After registration is finished and a person is an official ESA owner, it's time to consider buying some high-quality accessories for a pet to make them recognizable in the crowd and avoid unwanted questions in public.
Essential Accessories for ESA Owners
Overall, service animals and ESAs have a similar list of recommended accessories pet handlers can find quite helpful in their new routine. They can make social interactions much easier for newly presented emotional support animals owners, so at least some of those should be eventually considered. Without further ado, let's have a closer look at those:
Each item indicated above is available for purchase on the My Service Animal website, so make sure to check them out. Even though accessories for ESAs are not obligatory, we still believe they can make one's life with an emotional support animal more comfortable, so consider them for yourself.
Different sizes and models are available in our shop, so speak to a manager to select the best option. An ID card and registration certificate can also be purchased after the registration process is finished.
Choose the Right Size for an Emotional Support Animal Vest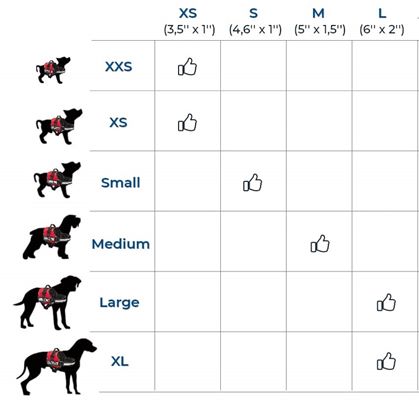 When it comes to choosing an emotional support vest, dog should feel comfortable in it as this accessory will be on for most of their time while in public. That's why many factors should be considered before buying a harness to ensure your pet feels nice and cozy.
On this website, vests are available in a variety of sizes based on the dog's breed, weight, and other characteristics. To select the most suitable, consider the following nuances:
A dog's height from the tip of the head to the toes;
Around their middle for full-body vests;
Girth size to make sure the collar doesn't choke the dog.
Sizes from XXS to XL are available at MyServiceAnimal, and it's possible to order them in any color (still, we recommend asking a sales representative about items in stock to ensure everything you need is available).
Sometimes, pets can outgrow their accessories because of age or weight gain, so check out whether they are comfortable once in a while to ensure harness replacement is not required.
How to Get an Emotional Support Dog Vest?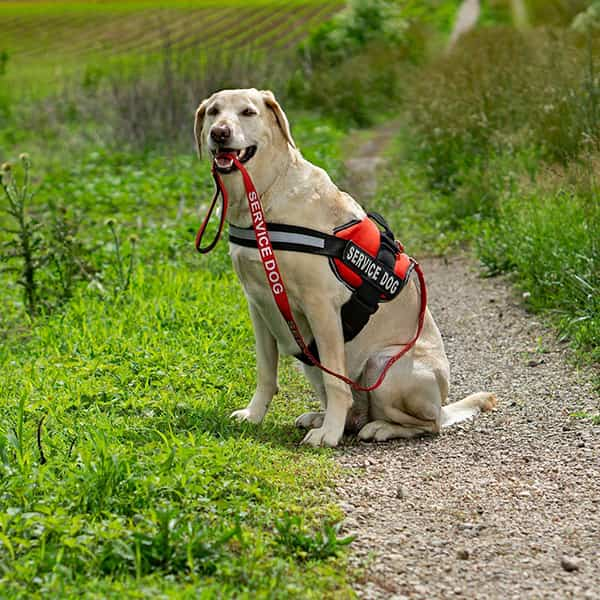 Once again, we would like to remind you that accessories for emotional support animals are not demanded by law and are totally optional. However, if you want to show your status publicly, don't waste your money and only buy products of the highest quality.
Wearing special accessories like a vest and collar show people that the pet is here to help with mental health and make social interactions (and other everyday tasks) easier on them. MyServiceAnimal understands it perfectly. It was founded to help those with assistant pets spread awareness and go through the process of registration/selecting accessories/getting letters or recommendations faster. What exactly can you get on this website?
Online registration for your helper pet (either it's a service animal, emotional support animal, or therapy dog);
Accessories for different types of assistant pets;
Help from experienced managers in case there are any questions about the ordering process.
Placing an order on this website is easy and fast; all you need to do is to add everything you need to the cart and then confirm the order. Afterward, a sales representative will contact you to ensure nothing is forgotten, and the parcel will be sent to your address as quickly as possible (it usually happens within 24 hours).
Typically, delivery takes up to 5 business days; it mainly depends on the post office's working speed, so we hope there is an understanding there are some factors we physically can't control.
The Final Word: Buy the Best Emotional Support Dog Harness at My Service Animal!
Picking the right accessories for emotional support animals can be challenging for people without experience in this sphere, but that's why MyServiceAnimal is here for you. Using them regularly makes everyday routine and social interactions much more manageable, so consider some additions to your dog's wardrobe!
All helper animal accessories are available in a variety of sizes, colors, and designs; the only thing a pet owner should decide on is which ones are essential for their needs. So don't postpone buying vests, collars, tags, and other items for your ESA, and check out their selection on the My Service Animal website. We are sure everyone can find something for their taste here!