A Service Dog Certificate is a confirmation document that certifies a dog as a trained service animal, indicating that the dog has been trained to perform specific tasks for an individual with a disability. While not required by law, the training certificate can be useful in situations where the service dog's presence is being questioned or denied. The certificate is printed on A4 paper format.
Being a service dog owner can be challenging and complicated at times. Many people may not fully comprehend the role of a service animal and may ask insensitive or intrusive questions, distract a dog while it is working, or even attempt to pet the animal without permission. While not required by law, the certificate can be useful in situations where the service dog's presence is being questioned or denied.
Legitimate Service Dog certification overview
ADA certification provides legal recognition of a dog as a trained service animal. It helps owners navigate public spaces and avoid uncomfortable confrontations with individuals who may not understand the concept of service animals. With lifetime validity, our certification for service dogs ensures that owners can access public spaces with their service dogs hassle-free.
Certified service animals have certain legal protections under the Americans with Disabilities Act (ADA) and other laws, and enjoy special rights that other regular animals do not have.
Benefits of a Service Dog Certificication
The right to enter public places like restaurants and stores with their handler, even if pets are not typically allowed.
The right to accompany their handler on flights at no additional cost.
Exemption from housing restrictions, which means that individuals with disabilities are allowed to have them in housing facilities that generally do not permit pets.
No need to pay for a rental pet deposit or additional fees.
They should accompany their handler everywhere they go, even to places where animals are not allowed. The full list of these establishments includes:
All food-related places (bars, restaurants, cafes, etc.);
Educational establishments (schools, universities, working areas, etc.);
Every type of rented housing (apartments, condos, hotels, B&B, etc.);
Medical establishments (every area that doesn't require total sterility).
It's important to note that landlords cannot charge extra rent or cleaning fees for having a service animal. If they do, contact the ADA for assistance. Additionally, service dogs are allowed on flights but must be well-behaved and sit near the owner. Make sure to inform the airport beforehand to avoid any issues. If necessary, the dog can be placed in a comfortable cage for the flight. Check our guide on how to fly with a service dog.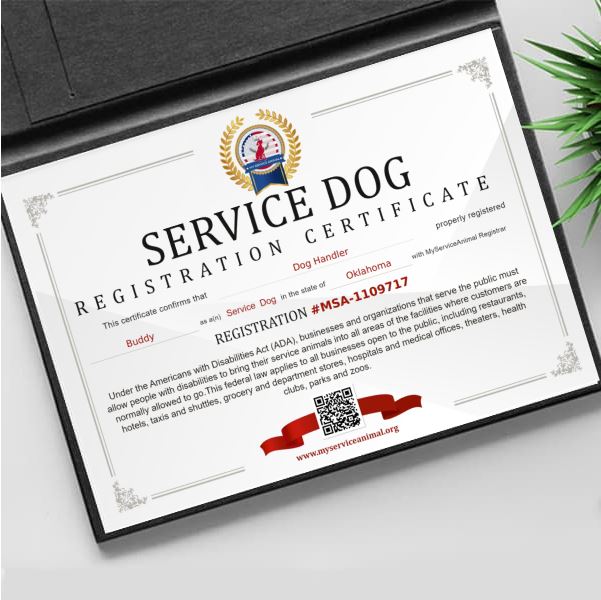 Which animals can qualify to become certified service animals?
A service animal should always be properly trained to help a person specifically with their disabilities. A person can train their dog to become their personal service animal; however, most people prefer choosing a dog that was already trained and knew all the specifics of their health issue. A dog of any breed and size can be certified as a service animal. Sometimes, people also choose miniature ponies for this purpose. These animals are extremely intelligent and gentle, so they are perfect for a role of a little helper.
It's important to note that there is no such thing as service cats, service rabbits, service pigs, or other animals. Only dogs and mini horses can be recognized as service animals under the Americans with Disabilities Act. Other animals can still provide emotional support, but they must be certified as emotional support animals, not service animals.
How to get an online certificate for service dogs?
If your pet has undergone professional service dog training or you have trained it yourself, obtaining an online certificate for service animals is easy with our 3-step process:
Add an ADA certificate and any desired accessories to your cart.
Provide necessary information about the owner and pet, including name, breed, and type.
Fill out the form and pay with a Debit/Credit card or PayPal.
After the information is confirmed and verified by our manager, a printed ADA certificate will be issued for your pet.
Difference between an ID Card and an ADA certificate
A service dog registration with an ID card and a service dog training certificate are two different types of documents that are often used to identify and verify the status of a service animal. Here are some key differences between the two:
Purpose: A service dog ID card is typically used to identify the animal as a service dog and to provide information about the animal and its handler. A service dog certificate, on the other hand, is typically used to verify that the animal has undergone proper training and meets the standards for a service animal.
Legal recognition: An ADA ID card may be recognized by some entities as proof of the animal's status as a service dog, but it may not have the same level of legal recognition as an ADA certificate. A service dog certificate may be required by certain entities, such as airlines or housing providers, as proof of the animal's status and training.
Format: A service dog ID card is typically a physical card that the handler carries with them, while a service dog training certificate is typically a document that is issued and signed by the trainer or issuing organization
USA Service Dog certification law
The United States does not have a federal law that requires service dogs to be certified or registered, this is a voluntary and optional form of confirmation of your Assistant Animal status. However, service dogs are protected under the Americans with Disabilities Act (ADA) and must meet certain requirements, such as being trained to perform specific tasks that assist with a disability. The ADA provides legal protection for certified service dogs by allowing them to accompany their owners in public places and establishments, and prohibiting discrimination against them based on their disability or their status as a service animal.
Regarding U.S. DEPARTMENT OF LABOR:

The Americans with Disabilities Act  prohibits discrimination against people with disabilities in several areas, including employment, transportation, public accommodations, communications and access to state and local government programs and services.
Under the ADA, service dogs are not required to have any specific training, but they must be trained to perform tasks that mitigate their handler's disability. The training may be provided by a professional trainer or the handler themselves, and the dog must be under control and well-behaved in public. The handler is responsible for the dog's behavior and must be able to handle the dog effectively. If you're looking for professional service dog training, we've compiled a list of  ADA US-based training companies.
Do I need a Service Dog letter for ADA certification?
No, the Americans with Disabilities Act (ADA) does not require a service dog letter for certification. ADA certificate confirms the performance of your dog's specifically assigned tasks and appropriate training for this purpose. However, it is essential to note that service dogs must be trained to perform specific tasks to assist individuals with disabilities, and owners may be asked to provide documentation of their dog's training and abilities in certain situations.
Essential ADA certification bundle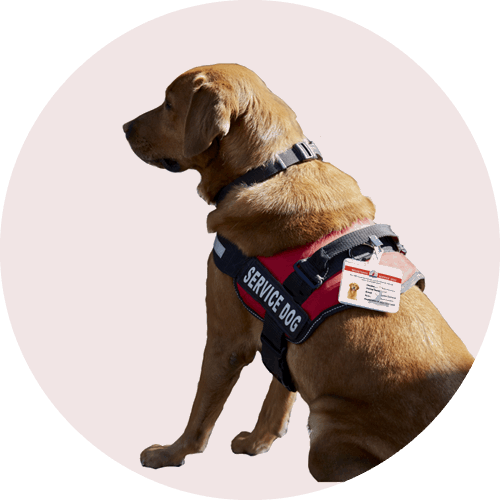 To travel with your pet, visit public spaces, or rent an apartment without extra pet deposit fees, you may need to request housing accommodations and provide additional documentation. Our service provides the necessary documentation:
Take your certified service animal's recognition to the next level and avoid unwanted attention with our range of ADA accessories. With our accessories, you can also increase control over your pet in public spaces, making outings less stressful for both you and your furry companion. Browse our shop for a variety of accessories for your assistant pet:
Displaying your pet's ADA status in public raises awareness and ensures you and your animal are not disturbed. It also helps avoid uncomfortable situations in establishments by making it clear that you and your pet must not be separated or denied entry.
If you want to certify Service Dog with a complete set of all available paperwork and ADA accessories, please order our cost-effective Full Kit ADA Registration bundle.
Take Action Today
Order your Service Dog Certificate and enjoy the peace of mind that comes with knowing your service dog is legally recognized and protected. Contact us for more information on how we can help you and your service dog navigate the world with ease.
Description Last update:
November 5, 2023