Service dog registration is a process that provides legal recognition for a specially trained dog or miniature horse as a service animal. These animals are trained to perform specific tasks for individuals with disabilities, and registration allows them and their handlers to access public spaces, travel together, and waive rental deposit fees.
Legitimate Service Dog Registration
ADA dogs are specially trained animals that assist people with specific disabilities in performing everyday tasks and maintaining their routines. Although some service dogs are raised from puppies to fulfill their profession, many pet owners choose to train their dogs to become their companions and helpers.
Service dogs are capable of performing a wide range of tasks for their handlers, from alerting them to high blood sugar levels to assisting visually impaired individuals with navigation. These dogs can come in any breed, as long as they are patient, well-behaved, and have a good-natured temperament. Most importantly, an ADA dog must be loyal to its owner and ready to provide protection and support whenever needed.
To qualify as a service pet owner, an individual must obtain a specific note from a licensed mental health professional, commonly referred to as an ADA doctor's letter. However, it's important to note that online database registration is a separate process that does not require a licensed mental health professional's letter to complete.
While registering your assistance animal is not mandatory to establish its official status or access associated benefits, having a doctor's letter is crucial. The ADA ID card provides added convenience and streamlines the process of identifying your service dog or service mini horse, making it easier for you to navigate various public spaces and situations with your pet. If there is an ADA ID card to prove the dog's status, a person with a disability will always have the law on their side.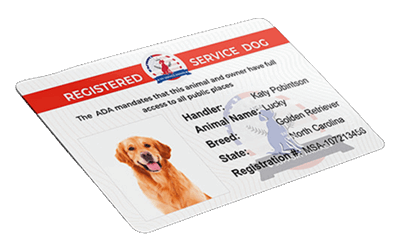 What benefits will you enjoy after registering your pet as a Service Dog
Legitimate service dog registration gives a lot of privileges both for animals and their handlers. What are those benefits? Well, let's discuss this in more detail:
Legal rights to live in "no pets" policy housing: The federal Fair Housing Act permits individuals with service dog allowed to reside in any type of housing, such as rentals, hotels, condos, and hostels. Landlords cannot charge extra pet fees or deny accommodation. They are also not allowed to inquire about the handler's specific health issues; they may only request a doctor's letter or registration certificate for verification. Also, housing providers are not allowed to charge a pet deposit for support animals.
Hassle-free air travel: Participating airlines allow service animals to travel without additional pet fees. Handlers must submit their legitimate ADA letter and complete any required forms 48 hours before flying. The support animal should be well-behaved and remain close to the handler throughout the flight.
Greater public recognition: Registering your animal is legitimate and helps others understand its purpose in supporting your emotional well-being. This can lead to fewer questions or issues when out in public with your service dog, as people will recognize its role in your life. Furthermore, the law supports your right to have an ADA, making your day-to-day experiences more comfortable and manageable.
Ability to travel with your service dog in the cabin: Service dogs are allowed to travel with their handlers in the cabin of an aircraft, regardless of their size. Handlers must notify the airline in advance and provide the necessary documentation. The service dog must be well-trained, well-behaved, and remain close to the handler throughout the flight.
Lifetime validity of ADA registration ID cards: Registration and ID cards have no expiration date, making them valid for the pet's lifetime. This ensures that you won't need to renew or replace the ID card, providing peace of mind and convenience throughout your pet's life as a service pet.
Service Animal federal law
The Americans with Disabilities Act (ADA) defines the Service Dog as a dog trained to do work or perform tasks for individuals with disabilities. The tasks performed by a Service Dog must be directly related to the person's disability. Under the ADA, businesses, and organizations that serve the public must allow people with disabilities to bring their Service Dogs into all areas where customers are allowed to go. This includes restaurants, hotels, retail stores, and other public places. The law also prohibits discrimination against individuals with disabilities who use Service Dogs. It's important to note that while Emotional Support Animals (ESAs) may provide comfort to their owners, they are not considered Service Dogs under federal law and do not have the same legal protections. According to ADA, you do not need proof that your dog is indeed a service dog.
The law defines a service animal as a dog (or in some cases, a miniature horse) that is trained to perform tasks for individuals with disabilities.
Regarding to ada.gov

Any violation of this law can result in legal action against the business or organization. In addition to the ADA, there are also laws at the state level that provide protection for Service Dogs and their handlers.
What questions can be asked by the covered entity's employees to make sure the pet is indeed a service dog?
There are only two questions that the staff at the establishments can ask:
Is the dog here to help you with some kind of disability?
What tasks can the animal perform?
That's it. It is not allowed to ask to show how an animal helps the handler or discuss a person's disability.
Who Can I Contact if My Service Dog Is Denied Access?
If there is a situation when the staff in the place you are visiting don't want to let you in with your service dog, explain that the ADA rules allow you to do this, and your rights are protected by them. If they still don't let you in, talk to their manager and notice politely that you can call the police, and they will explain the law once more.
If you have more questions, you can contact the U.S. Department of Justice's toll-free ADA Information Line at 800-514-0301 (voice) or 800-514-0383 (TDD).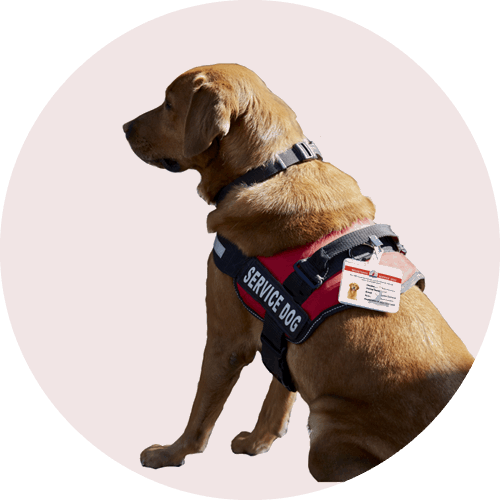 Who is eligible for a Service Dog
Service dogs can benefit individuals experiencing a range of physical or mental health issues, including but not limited to:
Mobility impairments (e.g. paralysis, amputations, multiple sclerosis)
Hearing impairments (e.g. deafness)
Visual impairments (e.g. blindness, low vision)
Seizure disorders (e.g. epilepsy)
Diabetes
Autism spectrum disorders
Post-traumatic stress disorder (PTSD)
Anxiety disorders
Depression
Bipolar disorder
Schizophrenia
To register your pet online and obtain an ADA ID card, you must have a doctor's letter of recommendation that includes your specific diagnosis. If you need to find a professional and licensed dog trainer, please check our list: Service Dog Training Company List.
Can a cat be a service animal?
No, cats cannot be service pets. They are too small and are not as easy to train as dogs. Only dogs and miniature horses can become service animals. However, cats are often registered as Emotional Support Cat to provide emotional help to their handlers.
What is Service Horse?
it is possible to register a service horse as well. A service horse is a specially trained animal that provides assistance to people with disabilities, similar to a service dog. Service horses are trained to perform specific tasks to help individuals with disabilities live more independently. Some examples of tasks a service horse can perform include assisting with mobility, balance, and stability, helping with psychiatric or neurological conditions, and alerting to and mitigating the effects of medical events. Service horses can provide a unique level of support and can improve the quality of life for those who use them. Similar to service dogs, service horses are protected under the Americans with Disabilities Act and are allowed to accompany their owners in public places, including on airplanes. However, airlines may have their own policies and requirements for traveling with a service horse, so it's important to check with them in advance.
What are ADA Doctor's letters and what should they contain?
A doctor's letter is a written recommendation from a licensed therapist or mental health professional, confirming that you require a service dog or service mini horse due to mental health concerns. This letter is necessary when traveling with your animal, living in rented housing (in accordance with the Fair Housing Act), and registering or obtaining an ID card or ADA certificate.
A service animal letter should include the following elements:
It must be written on the letterhead of a licensed mental health professional.
The letter should confirm that you have a disability and require a service animal.
It should include a recommendation for an ADA dog to help manage the symptoms of your mental illness or challenges.
The mental health professional's license number must be included.
The ADA prescription letter should contain the doctor's signature and the date.
Why is an ID card more convenient than carrying a doctor's letter?
Clear identification: The ID card readily identifies your pet as a service dog, offering clarity in situations where the animal's role might not be immediately apparent.
Increased recognition: An ADA ID card ensures landlords and other relevant parties acknowledge your animal's status, helping to secure accommodations required by law.
Minimized misunderstandings: The ID card can mitigate potential confrontations by clearly indicating your pet's status and its protection under applicable laws and regulations.
Expanded accessibility: An ID card assists in gaining access to housing and transportation options that might otherwise impose restrictions on pets.
Greater peace of mind: The ID card offers reassurance and confidence, knowing your service animal is properly identified and safeguarded by relevant legal protections.
A crucial feature of registering your service pet with us is that it includes not just a physical ID card, but also online registration in our database. You can conveniently access and view the digital ID card using only the registration number on our website at https://myserviceanimal.org/id-confirmation/. This ensures easy verification and added convenience for both you and others who may need to confirm your pet's assistant status. Please find the ADA digital ID sample below.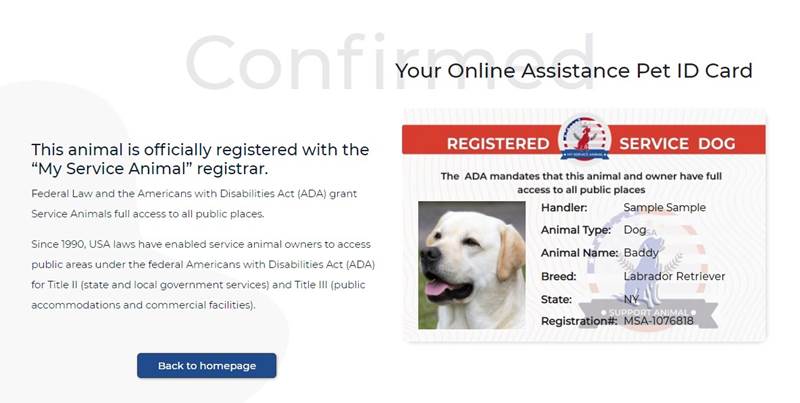 How to register a Service Animal?
We offer affordable Service Dog registration to help you confirm your animal's status when needed. To obtain an affordable legitimate ADA letter, contact your personal therapist or psychiatrist.
Complete the process in just 3 simple steps:
Provide the required information about the ADA owner (you can choose up to 2 handlers) and pet information: name, type, and breed.
Optionally, attach an animal photo. We recommend taking the photo at your pet's height. If you have difficulty with this step, you can email the photo to us after placing your order.
Fill out the form and proceed with payment using a Debit/Credit card or PayPal. Afterward, you'll receive a link to your pet's digital card. We suggest saving it in your bookmarks. Your physical ID card will then be queued for production and delivery. See the production and delivery terms in the Frequently Asked Questions section.
Congratulations, your service animal is now registered! If you need further assistance, our managers are always available to ensure the best customer experience.
Essential ADA registration bundle
In most cases, a doctor's letter of recommendation is sufficient for registering your pet as an ADA, but in certain situations such as requesting housing accommodations, additional documentation may be required. Fortunately, we offer the necessary documentation to provide convenience and peace of mind.
Take your assistance animal's recognition to the next level and avoid unwanted attention with our range of ADA accessories. With our accessories, you can also increase control over your pet in public spaces, making outings less stressful for both you and your furry companion. Browse our shop for a variety of accessories for your assistant pet:
Displaying your pet's ADA status in public raises awareness and ensures you and your animal are not disturbed. It also helps avoid uncomfortable situations in establishments by making it clear that you and your pet must not be separated or denied entry.
If you want to register with a complete set of all available documents and accessories for your dog, consider our cost-effective Full Kit ADA Registration Bundle.
Enhance your ADA experience with our ID Card & Registration
The ID card, along with our digital database, makes it easier for others to verify your animal's special status, facilitating smoother experiences in housing, travel, and public spaces. By registering your pet as an assistance animal with us, you are taking an important step towards a more comfortable and manageable daily life, ensuring that your loyal companion is always by your side to provide the support you need.
Description Last update:
November 25, 2023