Design Your Own Custom Patches Set for Harness or Vest – the ideal way to ensure your dog's unique status is easily identifiable or to craft a personalized patch with its name.
Variety of Patches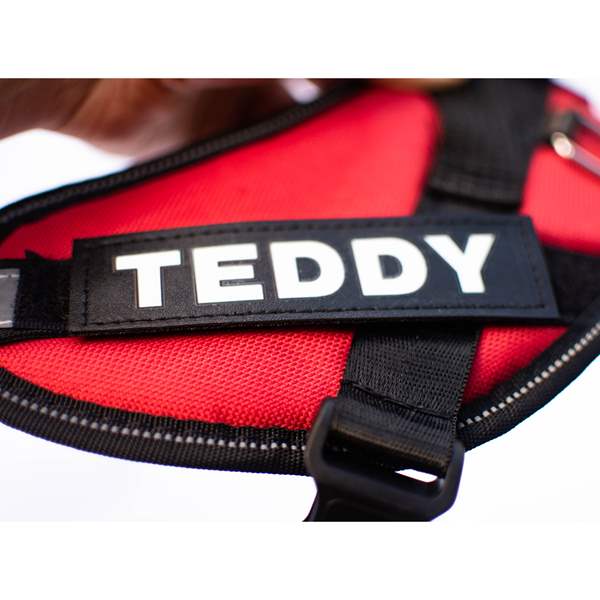 You can customize the text on the patches with up to 25 characters, although the optimal range is 6-12 characters. Just include the desired patch text in the order notes using quotation marks " ", and we will create it for you.
Patches characteristics
Our patches are not only tailored to work seamlessly with our own vests but are also designed to be compatible with a wide range of other vest types. However, for the best fit and appearance, we recommend cross-checking the specified dimensions with your vest's attachment area:
Small Patches Set: Measuring 1 1/4″ x 4 1/4″, these patches are designed to perfectly complement MyServiceAnimal vests in XS, S, and M sizes and for S size Tactical Harness.
Big Patches Set: Measuring 6 1/4″ x 2″, these patches are tailored to fit MyServiceAnimal vests in L, XL, and XXL sizes and M, L, and XL size Tactical Harness
Each set includes two identical patches, designed to fit on both sides of your pet's vest. This ensures a symmetrical and balanced look while clearly indicating your pet's special status.
Here are the steps to change a patch on your pet's vest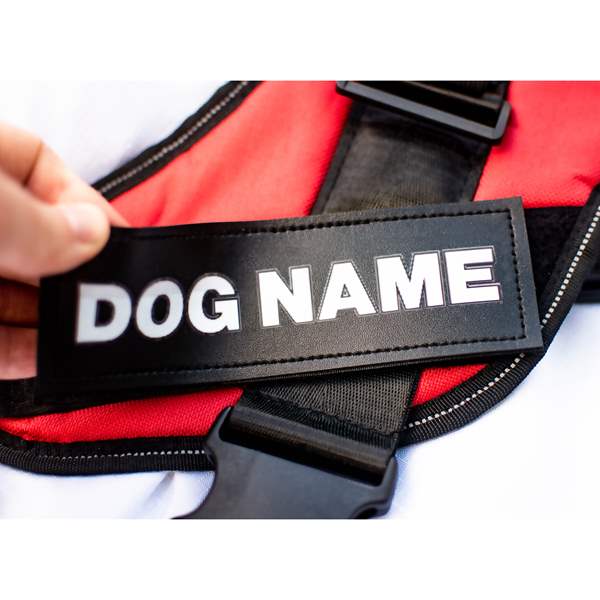 Remove the Old Patch: Carefully peel off the old patch from the vest. Start at one corner and gently lift it away from the fabric. Take your time to avoid damaging the vest or the patch.
Clean the Area (if necessary): If there is any residue or adhesive left on the vest, use a mild adhesive remover or warm soapy water to clean the area. Allow it to dry completely before attaching the new patch.
Attach the New Patch: Line up the new patch with the space where the old one was removed. Press it firmly onto the vest, starting from one edge and smoothing it out towards the other edge. Make sure it's securely attached.
Apply Pressure: To ensure a strong bond, apply some pressure to the patch for a few seconds.
Let it Set: Allow the patch to set for a few minutes to ensure it's securely attached.
That's it! Your new patch should now be in place on your pet's vest. Make sure it's centered and straight for a polished look.
Assistant Dog Additional Accessories
At MyServiceAnimal you can register your Service Dog or Emotional Support Animal online through our database, which serves as proof of their status and can be shown to anyone who doubts their legitimacy. Additionally, we provide the necessary documentation to ensure convenience and peace of mind for you and your assistant pet.
Take your assistance animal recognition to the next level and avoid unwanted attention with our range of ADA accessories. With our accessories, you can also increase control over your pet in public spaces, making outings less stressful for both you and your furry companion. Browse our shop for a variety of accessories for your assistant pet:
Displaying your pet's special status in public raises awareness and ensures you and your animal are not disturbed. It also helps avoid uncomfortable situations in establishments by making it clear that you and your pet must not be separated or denied entry.
Description Last update:
October 17, 2023